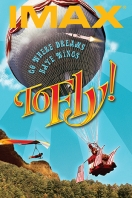 Out of an abundance of caution due to the recent surge in positive COVID-19 cases in the region, the Airbus IMAX Theater is temporarily pausing sales of concessions.
Take a multi-stop journey through the history of flight in this classic IMAX adventure. Watch the Earth drop away beneath as you ascend into the sky in an 1800s hot air balloon; soar across the Arizona skies with the U.S. Navy's Blue Angels and blast off into space on a Saturn rocket.  This popular giant screen feature has played daily and has been seen by millions of visitors at the National Air and Space Museum since the museum opened on July 1, 1976.
Learn More!
Explore the Milestones of Flight exhibit at the National Air and Space Museum for a first-hand look at the evolution of flight. From the Spirit of St. Louis to advances in space exploration, this exhibition showcases the premier objects of aviation and space history.
• Closed Captioning • Amplified Audio • Descriptive Audio