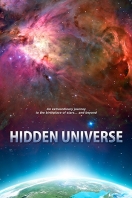 The giant-screen documentary adventure Hidden Universe takes audiences on an extraordinary journey deep into space in the cinematic medium that transports audiences like no other. With the full power of IMAX cinematography, the deepest reaches of our universe are brought to life with unprecedented clarity through real images captured by the world's most powerful telescopes—seen on-screen for the first time.
Stunning, high-resolution images of space allow moviegoers to explore the earliest galaxies, watch stars being born in vivid clouds of gas and dust, tour the surface of Mars, and witness images of distant celestial structures including stunning views of the Sun. Seen for the first time in IMAX, these dramatic new images offer fresh insight into the origins and evolution of the universe.
Narrated by Golden Globe winner Miranda Richardson, Hidden Universe is a December Cinema Productions film produced in association with Film Victoria, Swinburne University of Technology, and the European Southern Observatory (ESO). Executive produced by Emmy®-award-winning producer Tony Wright and George Adams and James Vernon.  Produced in association with MacGillivray Freeman Films. Produced by Stephen Amezdroz and written and directed by Russell Scott.  The musical score is by Dale Cornelius.
December Cinema Productions is a division of December Media, one of Australia's most experienced producers of award-winning live action and documentary television. With more than 20 years of experience, the company is known for its high-quality dramas, documentaries and series made for Australian and international markets. Hidden Universe is the company's first film for IMAX theatres and follows in its long tradition of making screen-based entertainment that excites and inspires.