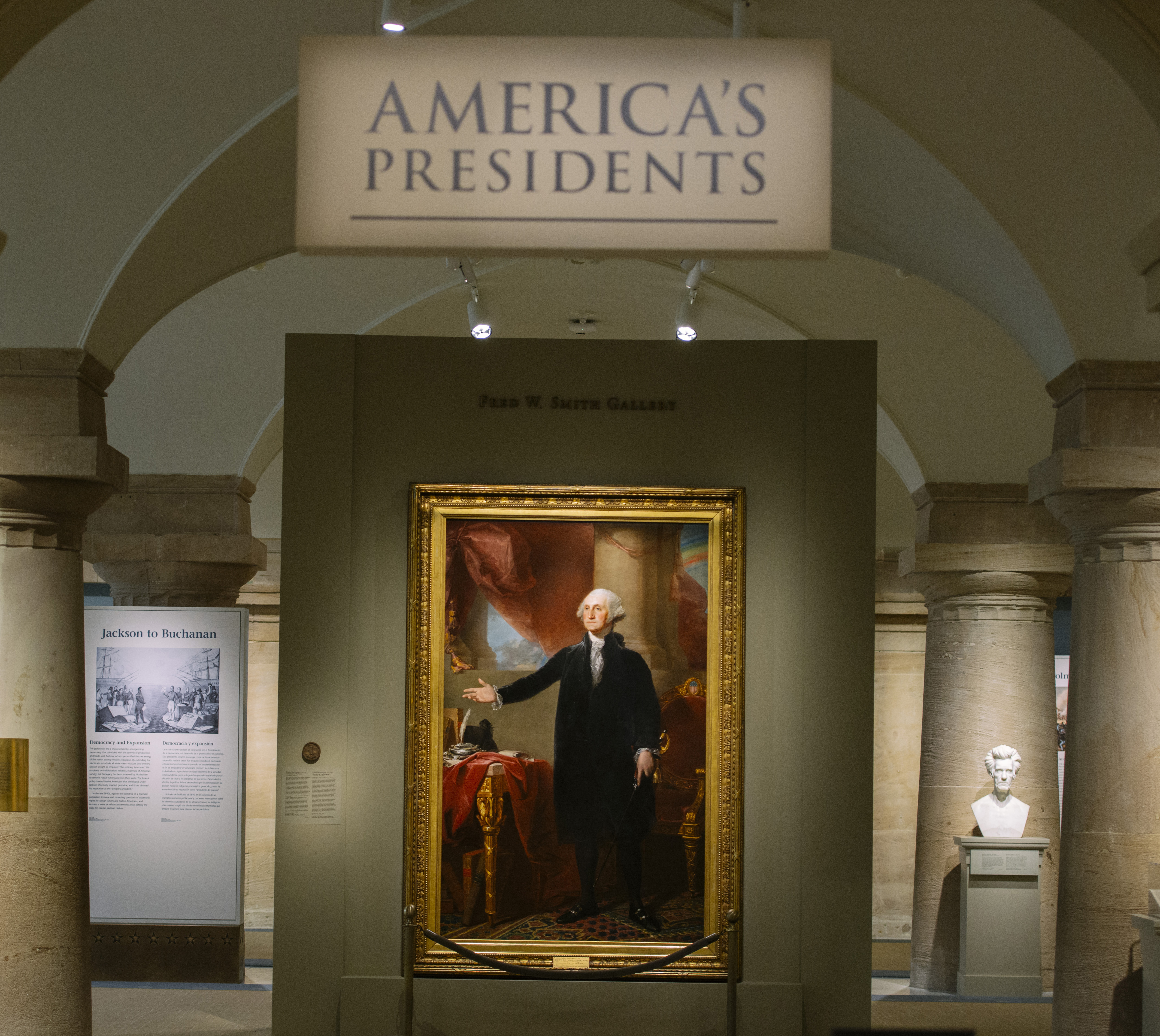 The Smithsonian's National Portrait Gallery today unveiled its commissioned portraits of former President Barack Obama and Mrs. Michelle Obama by artists Kehinde Wiley and Amy Sherald, respectively. The artworks were revealed in a private ceremony in the museum's Robert and Arlene Kogod Courtyard as part of the Portrait Gallery's 50th anniversary celebrations. President Obama and former First Lady Michelle Obama delivered remarks as did Smithsonian Secretary David Skorton, National Portrait Gallery Director Kim Sajet and artists Wiley and Sherald.
A media preview and photo op of the artworks will take place at 10 a.m. Tuesday, Feb. 13, before the museum opens to public. The Portrait Gallery is open from 11:30 a.m. to 7 p.m. daily.
"For 50 years, the National Portrait Gallery has told the story of America through the people who have impacted this country's history and culture," Sajet said. "We are thrilled to present to the nation these remarkable portraits of our 44th president, Barack Obama, and former First Lady, Michelle Obama, painted by two of the country's most dynamic contemporary artists, Kehinde Wiley and Amy Sherald. As a museum of history and art, we have learned over the past half-century that the best portraiture has the power to bring world leaders into dialogue with everyday Americans. These two paintings fall into that category, and we believe they will serve as an inspiration for generations to come."
Before President Obama's departure from office, he and Mrs. Obama selected Wiley and Sherald to paint their likenesses for the Portrait Gallery's collection. This is the first time that African American artists have been commissioned for the National Portrait Gallery's official portraits of a President or First Lady.
Throughout his career, Wiley (b. Los Angeles, 1977) has garnered international recognition for his large-scale paintings of African Americans in poses resembling famous figures in the history of Western art. His rich, highly saturated color palette and his use of decorative patterns complement his realistic, yet expressive, likenesses. This new oil-on-canvas likeness pays tribute to President Obama, who in 2009 made history by becoming the first African American President of the United States. References to the sitter's life are made in the decorative background with chrysanthemums (the official flower of Chicago), jasmine (symbolic of Hawaii where the President spent most of his childhood) and African blue lilies (alluding to the President's late Kenyan father). Wiley earned a Master of Fine Arts from the Yale University School of Art in 2001. In 2008, the Portrait Gallery presented Wiley's work as a featured artist in the museum's "RECOGNIZE! Hip Hop and Contemporary Portraiture" exhibition.
Baltimore-based Sherald (b. Columbus, Ga., 1973) is known for her stylized, archetypal portrayals of African Americans. A personification of resilience herself amidst challenges from a heart condition, Sherald conveys the inner strength of her subjects through a combination of calm expressions and confrontational poses. In this oil-on-linen painting, Sherald depicts the former First Lady as both confident and approachable in a dress by Michelle Smith's label Milly. Sherald earned a Master of Fine Arts from the Maryland Institute College of Art in 2004 and became the first woman to win the National Portrait Gallery's Outwin Boochever Portrait Competition. Her work is included in several U.S. museum collections.
The National Portrait Gallery recognized the lead donors to the Obama portraits: Kate Capshaw and Steven Spielberg; Judith Kern and Kent Whealy; Tommie L. Pegues and Donald A. Capoccia; Clarence, DeLoise and Brenda Gaines; The Stoneridge Fund of Amy and Marc Meadows; Robert E. Meyerhoff and Rheda Becker; and Catherine and Michael Podell.
Presidential Portraits
The National Portrait Gallery is the only place outside the White House where visitors can view a complete collection of U.S. presidential portraits. The Portrait Gallery holds more than 1,600 portraits of U.S. Presidents and also possesses numerous portraits of the country's First Ladies. The Portrait Gallery began commissioning portraits of the President with George H.W. Bush in 1994 and added commissions of the First Lady beginning with Hillary Clinton in 2006. Wiley's painting of President Obama will be permanently installed in the Portrait Gallery's "America's Presidents" exhibition, which features key portraits of past Presidents from the collection, including the world-renowned "Lansdowne" portrait of George Washington by Gilbert Stuart. Sherald's painting of Mrs. Obama will be on view in the museum's "Recent Acquisitions" corridor through early November 2018.
National Portrait Gallery
The Smithsonian's National Portrait Gallery tells the multifaceted story of the United States through the individuals who have shaped American culture. Spanning the visual arts, performing arts and new media, the Portrait Gallery portrays poets and presidents, visionaries and villains, actors and activists whose lives tell the American story.
The National Portrait Gallery is part of the Donald W. Reynolds Center for American Art and Portraiture at Eighth and F streets N.W., Washington, D.C. Smithsonian Information: (202) 633-1000. Connect with the museum at npg.si.edu, Facebook, Instagram, Twitter, YouTube and the museum's blog.
# # #
SI-116-2018