"National Parks Adventure" Opens at the National Museum of Natural History Feb. 12
IMAX Film Celebrates National Park Service's Centennial
January 14, 2016
News Release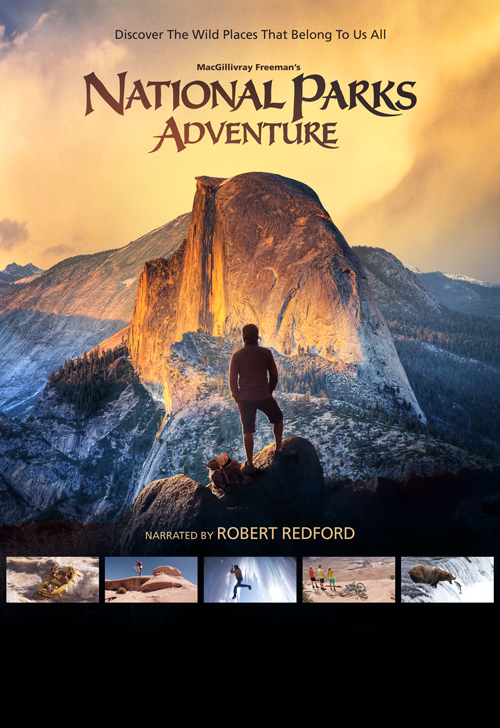 Smithsonian Theaters and MacGillivray Freeman Film's invite audiences to journey on the ultimate off-trail adventure into the nation's awe-inspiring outdoors and untamed wilderness in National Parks Adventure, produced in association with Brand USA and presented globally by Expedia Inc. and Subaru of America Inc. with major support from the Giant Dome Consortium. The National Museum of Natural History will co-host the official world premiere of National Parks Adventure with Brand USA Feb. 10 at the museum's Samuel C. Johnson IMAX Theater. The film will begin its scheduled screenings to the public Feb. 12.
Moviegoers will soar over red rock canyons, hurtle down steep mountain peaks and explore other-worldly realms found within America's most legendary outdoor places. Along the way, the film becomes an action packed celebration of the 100-year anniversary of the National Park Service.
"National Parks Adventure captures the stunning beauty of our wild places and reminds us these landscapes are an essential part of the human spirit," said Robert Redford, narrator and Academy Award winner.
The 43-minute movie was filmed in more than 30 national parks across the country. This immersive film for IMAX follows world-class mountaineer Conrad Anker, adventure photographer Max Lowe and artist Rachel Pohl as they hike, climb and explore their way across America's spectacularly wild and beautiful places, including Yellowstone, Glacier National Park, Yosemite and Arches. Captured with IMAX 3-D cameras and shown in full glory on the giant screen, National Parks Adventure celebrates the majesty of America's national parks and treasured landscapes while highlighting the importance of protecting them.
National Parks Adventure is a MacGillivray Freeman Film produced in association with Brand USA and presented globally by Expedia, Inc. and Subaru of America with major support from the Giant Dome Theater Consortium.
Tickets for National Parks Adventure are available at the Samuel C. Johnson Theater box office or online at www.si.edu/imax. Groups of 10 or more may reserve tickets now for any date during the film's expected run by calling 866-868-7774 or visiting www.si.edu/groupsales. The Johnson IMAX Theater is located on the main floor of the National Museum of Natural History  building on the National Mall in Washington, D.C., which is located at 10th Street and Constitution Avenue N.W.
About MacGillivray Freeman Films
MacGillivray Freeman Films is the world's foremost independent producer and distributor of giant-screen 70 mm films with 38 films for IMAX and giant-screen theatres to its credit. Throughout the company's 50-year history, its films have won numerous international awards, including two Academy Award nominations and three films inducted into the IMAX Hall of Fame. MacGillivray Freeman's films are known for their artistry and celebration of science and the natural world. It is the first documentary film company to reach the $1 billion benchmark for worldwide box office.
About Brand USA
Brand USA is the public-private partnership responsible for promoting the United States as a premier travel destination and communicating U.S. entry/exit policies and procedures. Established by the Travel Promotion Act in 2010, the organization's mission is to increase visitation to the United States while working in partnership with the travel industry to maximize the economic and social benefits of travel. These benefits include creating jobs essential to the economy and fostering understanding between people and cultures. For industry or partner information about Brand USA, visit www.TheBrandUSA.com.
# # #
SI-9-2016