"Living in the Age of Airplanes" Soars to the Giant Screen at the National Air and Space Museum April 10
April 2, 2015
News Release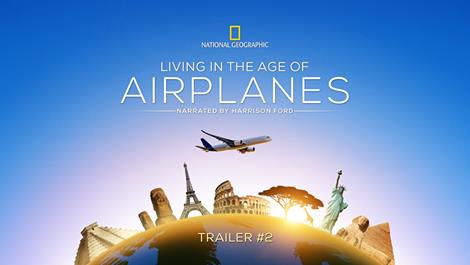 Smithsonian Theaters invites audiences to see Living in the Age of Airplanes, an immersive new giant screen film experience from National Geographic Studios. Narrated by actor and pilot Harrison Ford, it offers a fresh perspective on a modern-day miracle that many of us take for granted: flying. Using spectacular aerial and nature photography, Living in the Age of Airplanes takes audiences around the globe on an epic journey to 95 locations in 18 countries spanning all seven continents to show how, in a single century, aviation has changed the world forever.
Produced and directed by Brian J. Terwilliger (One Six Right), Living in the Age of Airplanes features an original score by Academy Award-winning composer and pilot James Horner (Avatar, Titanic) and cinematography by Andrew Waruszewski.
The film highlights the astonishingly rapid advancements that have led to a world in which 100,000 flights take off and land every day. During the vast majority of mankind's existence, walking was the fastest means of travel. Yet today, just 175 years after the introduction of the steam engine, boarding a jet to travel thousands of miles in a matter of hours is more often viewed as an inconvenience than a world-changing technological marvel.
"Since we were all born into a world with airplanes, it's hard to imagine that jet travel itself is only 60 years old, just a tick on the timeline of human history," said producer and director Brian J. Terwilliger. "With this film, we want to reignite people's wonder for one of the most extraordinary aspects of the modern world."
Tickets for Living in the Age of Airplanes are available at the Lockheed Martin Theater box office or online at www.si.edu/imax. Groups of 10 or more may reserve tickets now for any date during the film's expected run by calling 866-868-7774 or visiting www.si.edu/groupsales. The Lockheed Martin Theater is located on the main floor of the National Air and Space Museum building on the National Mall in Washington, D.C., which is located at Sixth Street and Independence Avenue S.W.
# # #
SI-140-2015