IMAX Entertainment's New Space Epic A Beautiful Planet Opens at the National Air and Space Museum April 29
April 18, 2016
News Release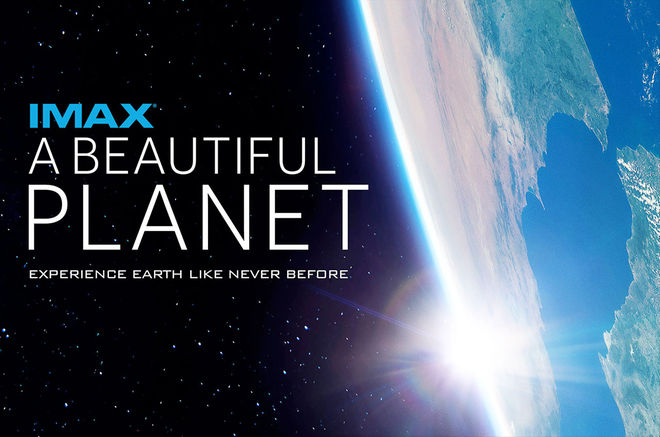 From IMAX Entertainment, A Beautiful Planet, the latest space documentary from director Toni Myers and made in cooperation with NASA, will open at both the Lockheed Martin IMAX Theater at the Smithsonian's National Air and Space Museum and the Airbus IMAX Theater at the Steven F. Udvar-Hazy Center April 29. The film features stunning footage of Earth and the effects humanity has had on it over time, captured by the astronauts aboard the International Space Station. It is narrated by Academy Award-winner Jennifer Lawrence.
The IMAX 3-D release of A Beautiful Planet will be digitally remastered into the image and sound quality of the IMAX Experience with proprietary IMAX DMR (digitally remastering) technology. The crystal-clear images, coupled with IMAX's customized theatre geometry and powerful digital audio, create an environment that will make audiences feel as if they are in the movie. In addition, both the Lockheed Martin IMAX Theater and Airbus IMAX Theater feature IMAX's dual 4k-laser projection system, capable of projecting an image with up to a 1.43:1 aspect ratio with maximum resolution and sharpness, unparalleled 3-D brightness, industry-leading contrast and an expanded color gamut to present more vivid and exotic colors.
A Beautiful Planet reunites much of the filmmaking team from Hubble 3D and Space Station 3D, led by producer and director Myers, who also wrote and edited the film. Director of photography James Neihouse served as the astronaut-training manager. Graeme Ferguson, IMAX co-founder and pioneer producer of many IMAX space films, is the executive producer, and Judy Carroll is the film's co-producer. Marsha Ivins served as space operations consultant on the film. Featured astronauts include Commander Barry E. "Butch" Wilmore, Commander Terry Virts, Commander Scott Kelly, Samantha Cristoforetti, flight engineer Kjell N. Lindgren, Anton Shkapelrov and Kimiya Yui.
Tickets for A Beautiful Planet are available at the Lockheed Martin IMAX Theater box office and the Airbus IMAX Theater box office or online at www.si.edu/imax. Groups of 10 or more may reserve tickets now for any date during the film's expected run by calling 866-868-7774 or visiting www.si.edu/groupsales. The Lockheed Martin Theater is located on the main floor of the National Air and Space Museum building on the National Mall in Washington, D.C., which is located at Sixth Street and Independence Avenue S.W. The Airbus IMAX Theater is located on the second floor of the Steven F. Udvar-Hazy Center at 14390 Air and Space Museum Parkway in Chantilly, Va.
# # #
SI-194-2016