Exclusive Premiere of Mission: Impossible—Ghost Protocol at the Smithsonian's Udvar-Hazy Center Dec. 15
December 6, 2011
News Release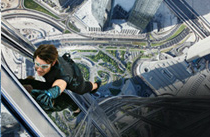 Mission: Impossible—Ghost Protocol launches at the National Air and Space Museum's Airbus IMAX Theater at the Steven F. Udvar-Hazy Center six days before the film launches in commercial theaters in the region. This is the fourth installment of the Mission: Impossible series.
Several action sequences featured in Mission: Impossible were filmed with IMAX cameras. These scenes will fill the Airbus Theater's six-story screen, offering an immersive cinematic experience that cannot be achieved in a standard-sized movie theater.
Blamed for a terrorist bombing of the Kremlin, Impossible Mission Force operative Ethan Hunt (Tom Cruise) is disavowed along with the rest of the agency when the President initiates "Ghost Protocol." Left without any resources or backup, Hunt must find a way to clear his agency's name and prevent another attack. To complicate matters further, Ethan is forced to embark on this mission with a team of fellow IMF operatives whose personal motives he does not fully know.
Directed by Brad Bird and produced by J.J. Abrams, the film features Cruise, Jeremy Renner, Simon Pegg, Paula Patton, Michael Nyqvist, Vladimir Mashkov, Josh Holloway, Anil Kapoor and Léa Seydoux. The 132-minute, PG-13 rated film opens Dec. 15 at 9:01 p.m. and will be shown every night through Feb. 9.
Audiences will also get to preview the six-minute opening scene from next summer's release, The Dark Knight Rises, the epic conclusion to the Batman trilogy. The Airbus IMAX Theater in Chantilly, Va., is the only theater in the region that will have this special preview footage.
Tickets are now available. Individual tickets may be reserved and purchased up to two weeks in advance. Groups of 10 or more may reserve tickets now for any date during the film's run. The public may visit any Smithsonian Theaters box office, call toll-free (866) 868-7774, TTY
(202) 633-8850 or visit www.si.edu/IMAX for information or to purchase tickets.
The Airbus IMAX Theater is located on the main floor of the Steven F. Udvar-Hazy Center at 14390 Air and Space Museum Parkway in Chantilly, Va. The theater's 75-by-62-foot screen is the largest in northern Virginia.
# # #
SI-525-2011