Dive Into Jean-Michel Cousteau's Secret Ocean at the National Museum of Natural History March 20
March 4, 2015
News Release
Addthis Share Tools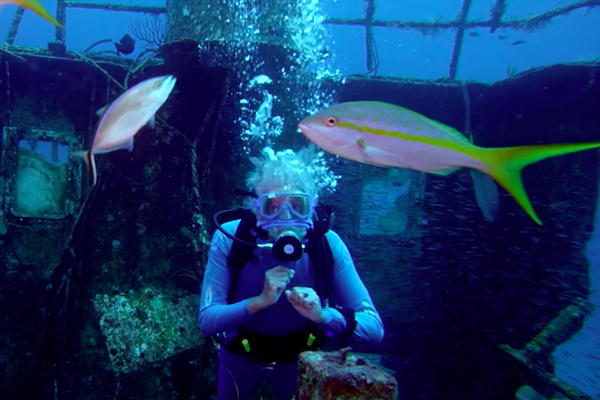 Smithsonian Theaters and Jean-Michel Cousteau invite audiences to dive into a spectacular underwater experience in Jean-Michel Cousteau's Secret Ocean, narrated by oceanographer Sylvia Earle, premiering Friday, March 20, at the Samuel C. Johnson IMAX Theater in the Smithsonian's National Museum of Natural History.
Filmed over the course of three years in vibrant marine environments from the Bahamas to Fiji, the first giant-screen film directed by Jean-Michel Cousteau provides a compelling, breakthrough look at a secret world within the ocean that is perhaps the biggest story of all—that the smallest life in the sea is the mightiest force on which all humans depend.
Secret Ocean engages audiences of all ages to experience the ocean as never before. With breathtaking underwater sequences, viewers are introduced to more than 30 species—some no bigger than 1 inch—and will discover behaviors captured for the very first time thanks to the development of new filming technologies in ultra-HD 5K, slow motion, macro and motion control.
"Since the 1940s, the Cousteau family has been deeply connected to the water," Cousteau said. "Several generations have grown up with our Calypso adventures, which revealed to the public what was a totally unknown world at that time. Thanks to the new technology developed specifically for us, I immediately understood that this was a revolution in underwater filming that would allow us to capture a whole new range of behaviors I had never before witnessed in my 69 years of diving. Secret Ocean takes us one step further in the discovery of the ocean in a way my father, Jacques Cousteau, could have only imagined."
Alongside marine biologist Holly Lohuis, Cousteau provides a brand new view of the underwater world that will leave audiences in awe of the beauty and diversity of the oceans—the source of all life on the planet—and inspire an even stronger desire to protect what they have seen for the first time, or rediscovered along the journey.
Jean-Michel Cousteau's Secret Ocean 3D is produced by Ocean Futures Society & 3D Entertainment Films, and distributed worldwide by 3D Entertainment Distribution. It was written by Pamela Stacey, and Gavin McKinney was the director of photography. Richard Murphy was the chief scientific advisor. The original musical score was written and performed by Christophe Jacquelin.
Tickets for Jean-Michel Cousteau's Secret Ocean 3D are available at the Samuel C. Johnson Theater box office or online at www.si.edu/imax. Groups of 10 or more may reserve tickets now for any date during the film's expected run by calling 866-868-7774 or visiting www.si.edu/groupsales. The Johnson IMAX Theater is located on the main floor of the National Museum of Natural History  building on the National Mall in Washington, D.C., which is located at 10th Street and Constitution Avenue N.W.
# # #
SI-86-2015