National Museum of Natural History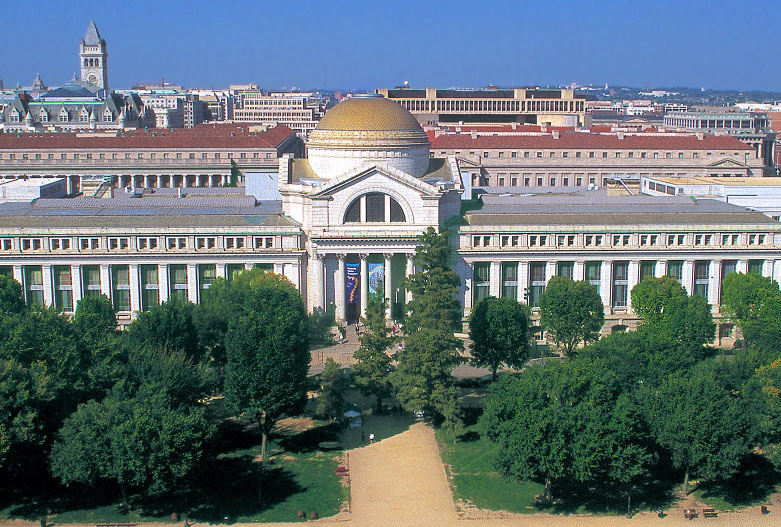 10th Street and Constitution Avenue, NW
Washington, DC
10 a.m. to 5:30 p.m. daily
(7:30 p.m. during extended hours)
Closed December 25
About
The world's most popular natural history museum is dedicated to understanding the natural world and our place in it. Delve into the fascinating story of our planet, from its fiery beginnings through billions of years of transformation, and explore life on Earth through exhibitions and activities, collection objects and research that happens in the lab and in the field. The museum is larger than 18 football fields and is home to the largest natural history collection in the world.
Highlights
Q?rius, where teens, tweens and their families connect science with everyday experiences; Q?rius jr, a discovery room for families with young children; Hall of Human Origins; The Last American Dinosaurs; mammals; Ocean Hall; the Hope Diamond; Egyptian mummies; Daily tarantula feedings in the O. Orkin Insect Zoo; Butterfly Pavilion ($).
Atrium Café (Ground Floor)
Natural and sustainable foods including BBQ beef brisket, rotisserie chicken, burgers, pizza, hot dogs, gourmet sandwiches, house-prepared soups, fresh salads, organic fruit, bottled and fountain beverages, and homemade desserts.
11 a.m. to 3 p.m. daily
Open until 5 p.m. when the museum has extended hours.

Café Natural (Ground Floor)
Ice cream, homemade desserts, specialty coffees, gourmet sandwiches, and fresh salads.
11 a.m. to 5 p.m. daily
Open until 7 p.m. when the museum has extended hours.

Outdoor Carts
Hot dogs, sodas, and ice cream.
11 a.m. to 5 p.m., weather permitting
March 28–Sept. 5

Discounts are available for Smithsonian Members with a valid membership card.
Parking is limited to street parking and commercial lots and garages. See map.
Metro Station: Smithsonian (Mall exit) or Federal Triangle