National Museum of Natural History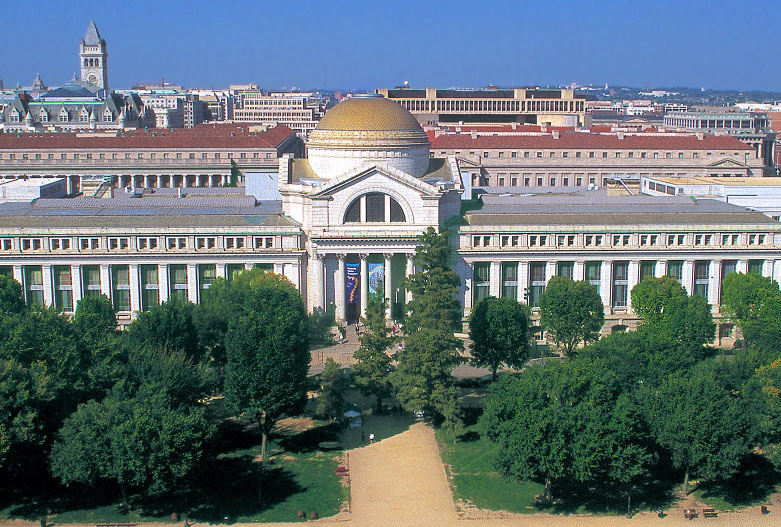 10th Street and Constitution Avenue, NW
Washington, DC
10 a.m. to 5:30 p.m. daily
(7:30 p.m. during extended hours)
Closed December 25
About
The world's most popular natural history museum is dedicated to understanding the natural world and our place in it. Delve into the fascinating story of our planet, from its fiery beginnings through billions of years of transformation, and explore life on Earth through exhibitions and activities, collection objects and research that happens in the lab and in the field. The museum is larger than 18 football fields and is home to the largest natural history collection in the world.
Highlights
Q?rius, where teens, tweens and their families connect science with everyday experiences; Q?rius jr, a discovery room for families with young children; Hall of Human Origins; The Last American Dinosaurs; mammals; Ocean Hall; the Hope Diamond; Egyptian mummies; Daily tarantula feedings in the O. Orkin Insect Zoo; Butterfly Pavilion ($).
The Museum's cafeteria is being renovated to better serve our visitors.  A temporary cafeteria featuring sandwiches, salads, hot and cold drinks, and desserts is now open on our second floor.

This location is group friendly and offers prepaid vouchers to groups of 10 or more!

Grab and Go Voucher ($15.00)

1 Sandwich or Salad
Chips or Fruit
Bottled Beverage              
We encourage the use of public transportation.
Metro Station: Smithsonian (Mall exit) or Federal Triangle
There is no public parking facility for Smithsonian museums on the National Mall. Limited 3-hour metered parking and commercial lots are available—see parking map. Reserved parking near the museums can be purchased in advance through ParkWhiz.
Note: ParkWhiz is a third-party vendor (ParkWhiz Privacy Policy).