Site Use Note for Cultural Organizations
Dear professional colleagues—in museums, libraries, other cultural and civic organizations and K-12 schools,
On behalf of the collaborators of Vaccines & US: Cultural Organizations for Community Health, let us welcome you to our portal—we hope the materials in all sections of this site will facilitate your work and inspire your continued engagement to improve the health of our communities.
For some of your organizations, community health is a new content area. Others have been working with health-related content for years. But all of us have the trust of our neighbors and the ability to reach out (virtually and physically) to our communities. We can inform our staff, our supporters, our visitors that we have information about COVID-19 vaccination and related topics for their use, and that we are empathetic, nonjudgmental, and offer a safe space to explore answers to pressing questions about the virus and vaccination.
The portal was designed as a "one-stop shop," for organizations of all sizes and structures, who wish to support national COVID-19 virus education and vaccination efforts. This site was created to help YOU help your staff, supporters, visitors, and neighbors make an informed decision about the COVID-19 vaccines, to be prepared to answer questions about vaccines, or to discuss vaccination with family, friends, or in your community.
The purpose of this document is to tell you a bit about the structure and contents of the portal and, most importantly, give you some initial ideas about how to use it so it supports your organization.
Overall Structure
The six main sections and sub-sections of the portal are organized by topics. In general, within sections, the sub-sections are arranged from the most general to the most detailed.
The resources in this section explain the science of COVID-19, how it spreads, how to protect yourself, and how scientists around the world have worked together to understand it. It contains a COVID-19 Glossary and national and international COVID-19 trackers.
In addition to explaining how vaccines work, how we know if vaccines are safe, their development, and how they help, this section contains practical information. Resources include where to find vaccination sites (by zip code), insights into the vaccination process, and possible side effects. 
Community Health: Young People & Adults
This section includes resources from museums and other trusted sources to promote community health and make conversations about vaccination a bit easier and more informed. There is a section directed at young people for use by caregivers/parents and a section directed at adults that includes resources for talking about vaccination, staying well, and community engagement.
"COVID-19 and Vaccines in Young People" contains articles that staff may want to read as background on vaccines in children and how to talk to them about COVID-19 and vaccination.  
"Curriculum & Activities for Young People" includes materials for the youngest learners up to Grades 9–12. COVIBOOK, for those under 7, comes in 25 languages and can be printed and colored by little ones at home. "Pandemic: Comparing Influenza to COVID-19," designed for teachers working online, contains references to documents, images, and activities about the 1918 "Spanish" Influenza that allow for comparative studies with the COVID-19 pandemic by young people in high school.
"Vaccine Confidence" contains up-to-date data on where we are in the vaccination effort with young people.
Moreover, the materials in "Facts, Information, and Disinformation" and "Stay Healthy and Well," have a double purpose—to be shared within our communities and to support our colleagues and staff both professionally and personally.
Under Community Health: Adults, in the "How to Talk about COVID-19 and Vaccines" section, the Guide to COVID-19 Vaccine Communications is a thorough resource available for staff reference that covers everything from how people with different worldviews think about the pandemic to effective messaging. The accessible, Conversations summary companion is valuable for general use. 
"First Person" includes a range of perspectives. Comments range from total enthusiasm for vaccination to "wait and see" cautious perspectives.
This section also tackles tough questions such as: Why is the virus more prevalent in some communities than others? How have inequities made it harder for minority groups to manage pandemic outbreaks? Why are some communities blamed for viral outbreaks?
In this section, stories show the power of community and the remarkable ways individuals can adapt to challenges and help one another as well as expressions of hopes and fears. This section highlights how creatives offered us peaceful contemplation and solace through the visual arts, music, and poetry.
This section includes developing stories in the news and puts the current pandemic in historic context. The material addresses how Americans have responded to past pandemics and past vaccination efforts.
Examples for Using the Portal
So, from minimum to maximum, how might you make use of this portal?
Logo. Download the Vaccines & US logo and link to the vaccinesandus.org portal.
Posters. All of the posters can be downloaded and either added to your website and/or printed. The posters include instructions on how to add your logos and recommendations for printing. 

Posters can be put up on your front door—even if you are closed—in your neighborhood, or on lampposts and in other heavily trafficked areas of the neighborhood. 

Educators: Perhaps some of your students might want to design a poster and send it to us? It may end up on the portal and be used around the country …

And please send us snapshots of displayed posters! Share them on social media with the hashtag #VaccinesAndUS

Infographics. The Vaccines section has several infographics that can be downloaded and attached to emails sent to members, included in newsletters, printed and posted on a library or organization bulletin board, or used in teaching a class.

Articles, videos, and other media. Much can be downloaded, the rest can be linked to and used in a variety of passive and interactive fashions:
Discussion groups on topics relevant to a community can be supported by selected materials, identified and sent in advance or posted. For example, addressing children's needs, the importance of masks, or changes the pandemic brought to our lifestyles, are possible topics.

Specific activities, motivated by portal items, and undertaken by individuals or families can be assembled to result in an organization issued book and distributed in the community. For example, an organization specific recipe book plus photo collection of local "comfort food," or COVID-19–inspired poetry, or short stories, etc.

Creating local materials. The portal contains a video of the inside of a vaccine clinic in Iowa. Consider using that as a model for creating a simple video of a local clinic with locals commenting. Posting such a video may be helpful and relevant to your community. Or collaborate with other organizations and document "a day in our town."

Ask volunteers to identify all the languages spoken in the community by young children and then promote COVIBOOK and the Smithsonian Science Education Center's guide in those languages.

Rotate 5–6 items on your website each week by selecting across sections of the portal or by focusing on specific topics.
Below are several examples: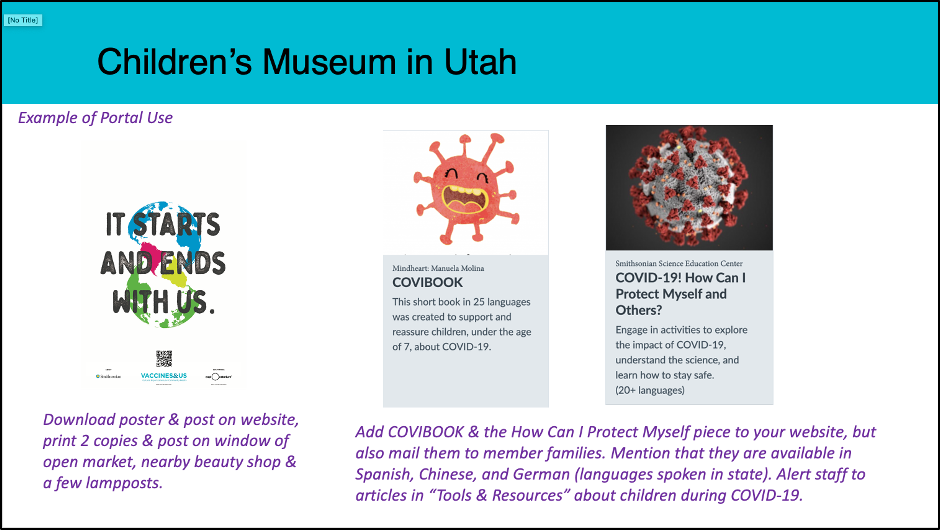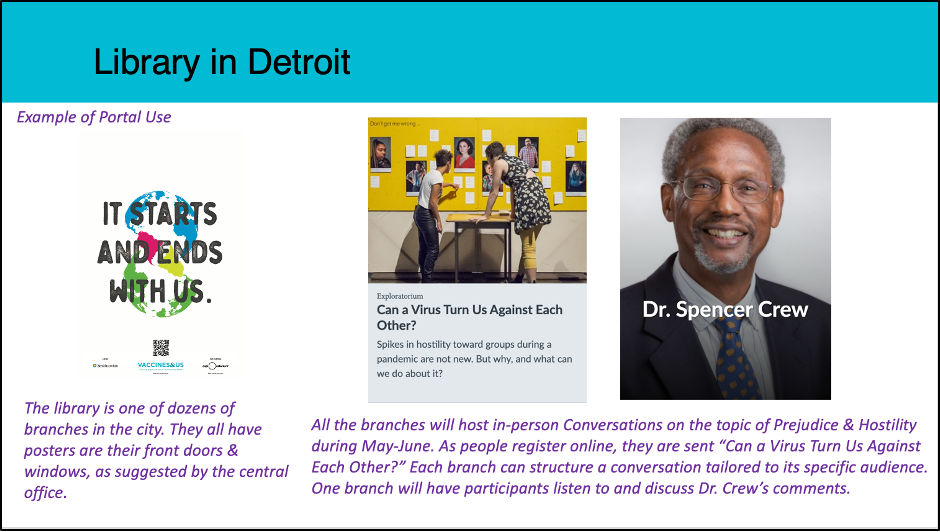 Last update: May 11, 2022