In the first half of the 19th century, few of the era's great thinkers could match the pervasive influence of Alexander von Humboldt. The Prussian naturalist and explorer was everywhere at once: taking barometric readings on mountaintops, publishing bestselling books on natural philosophy, corresponding with heads of state.
Ralph Waldo Emerson described Humboldt as "one of those wonders of the world"—a scholar whose interests spanned astronomy, botany, chemistry, economics, geography, geology, physics, politics and zoology; a man who, even today, has more species named after him than any other human.
Acclaimed for his groundbreaking concept of the unity of nature—the idea that everything on the planet is interconnected in "one great whole"—Humboldt's work had particular resonance in the United States, a then-young nation with expansive natural resources.
A major upcoming exhibition at the Smithsonian American Art Museum, Alexander von Humboldt and the United States: Art, Nature, and Culture, explores Humboldt's impact on America across five spheres of cultural development—the visual arts, sciences, literature, politics and exploration—between 1804 and 1903.
Humboldt's pivotal six-week visit to America in 1804 serves as a starting point. Throughout his travels here, Humboldt helped Americans see their natural landmarks as emblems of the nation's promise. He met with President Thomas Jefferson and leading American artists, writers and scientists, shaping their views of an emerging national identity linked to nature. At the same time, he developed a lifelong admiration for American ideas and landscapes.
"Humboldt envisioned the United States as an instruction manual for democracy, modeling its founding ideals for the rest of the world," said Eleanor Jones Harvey, senior curator at the Smithsonian American Art Museum and curator for the exhibition. "By seeing virtue in the country's landscape and its people, he sped the nation along the path of deploying nature—and by extension landscape painting—as a core component of its cultural identity."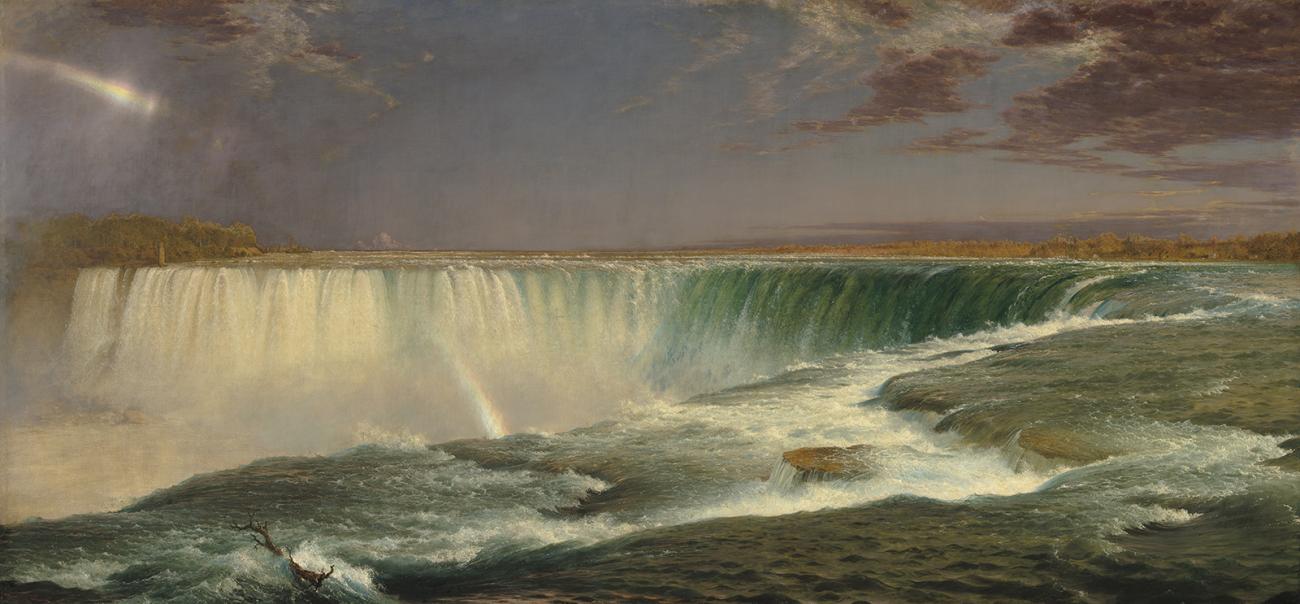 Humboldt's visit to the United States came at just the right moment. In 1804, the country had much to prove in the realm of science and nature:Many European scientists believed that the plants, animals and people of the New World were smaller and weaker than their European counterparts.
"Humboldt gave Americans the confidence to play the strongest card we had—our great natural monuments," said Harvey. "Why did we choose to build a national park system instead of building cathedrals and castles, as Europe had done? That's all part of his legacy."
Indeed, Humboldt's legacy in the United States stretches in many directions. His ideas influenced generations of American landscape painters, including Albert Bierstadt, Frederic Edwin Church and Charles Willson Peale, as well as writers Henry David Thoreau, Ralph Waldo Emerson and Walt Whitman.
Humboldt also was acquainted with English chemist James Smithson, founding donor of the Smithsonian Institution, and Humboldtian ideas guided U.S. Congressional debate over how to use Smithson's bequest for "the increase and diffusion of knowledge"—a process that led to the establishment of the Smithsonian in 1846. Today, Humboldt's revolutionary theory that all aspects of the planet are interconnected frames how we respond to environmental challenges.
The exhibition's final gallery is devoted to nine Smithsonian environmental initiatives—including a National Zoo project to grow bird-friendly coffee and a National Museum of Natural History project to study indigenous knowledge of climate change—that carry on the naturalist's ethos. "Humboldt would tell us, the more knowledge you have, the better decisions you make," said Harvey. "He teaches us to reconnect with our environment and understand how we can assure our mutual survival."
Alexander von Humboldt and the United States: Art, Nature, and Culture includes more than 100 paintings, sculptures, maps and artifacts, among them objects from six Smithsonian museums and a fossilized mastodon skeleton on loan from the Hessisches Landesmuseum Darmstadt.
Alexander von Humboldt and the United States: Art, Nature, and Culture opens in 2020 at the Smithsonian American Art Museum and is accompanied by a major catalogue. A Smithsonian Channel documentary, Humboldt: Epic Explorer, premiered in March 2020.
The exhibition is made possible through generous support from Joanne and Richard Brodie, Billings and John Cay, Fern and Hersh Cohen, Sheila Duignan and Mike Wilkins, Marie M. Halff, Liliane A. and Christian W.E. Haub, Raymond J. and Margaret Horowitz Endowment, Kandeo Asset Management, Maureen and Gene Kim, LATAM Trade Capital, Robert Lehman Foundation, Henry Luce Foundation, The Lunder Foundation–Peter and Paula Lunder Family, Provost of the Smithsonian, Lucy S. Rhame, Holly and Nick Ruffin, Jacquelyn and William Sheehan, Smithsonian Scholarly Studies Awards, Terra Foundation for American Art, and Kelly Williams and Andrew Forsyth.
The exhibition is supported by an indemnity from the Federal Council on the Arts and the Humanities. The accompanying catalogue is supported by Furthermore: a program of the J.M. Kaplan Fund.
Published April 2020 in IMPACT Vol. 6 No. 2
Your gift fuels innovation, inspiration and exploration for lifelong learners everywhere. Make a gift today.