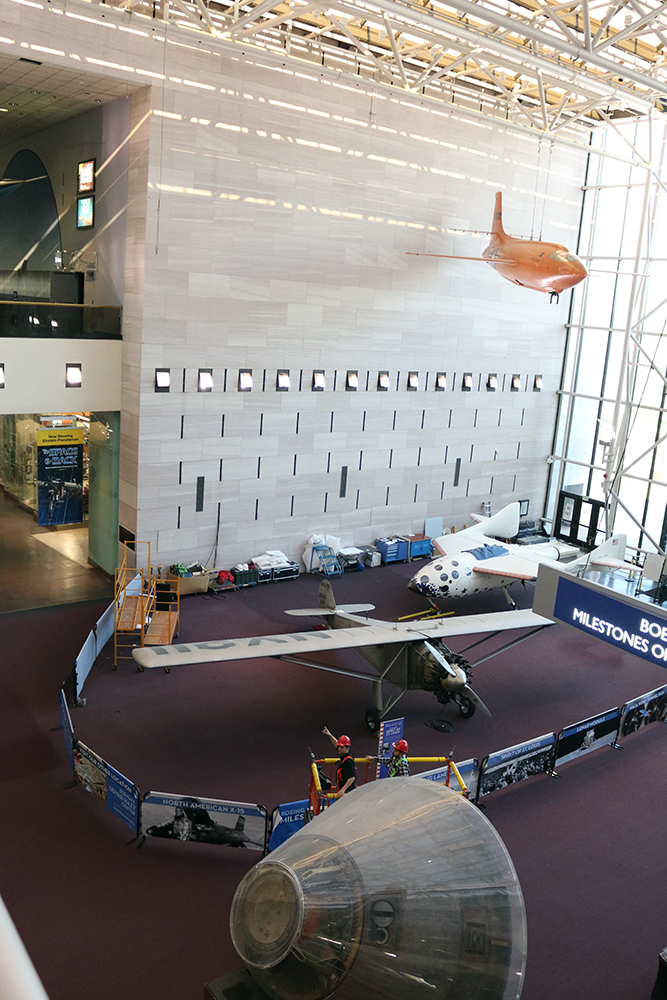 On April 1, 2015, the Smithsonian's National Air and Space Museum exhibited Wonder Woman's Invisible Jet. Acquired in April 2013 by the Museum of Flight in Seattle from Lt. Diana Prince, it was loaned to the Air and Space Museum for display in Washington, D.C.
The trick for the National Air and Space Museum was to display the plane in its jet formation. The plane had only been displayed publicly in the propeller configuration. The new design was made possible by the plane's shape-shifting properties.
The jet is well ahead of its time. Its stealth capability was used well before the Lockheed YF-12A and the SR-71 Blackbird were introduced. And the advanced Amazonian engines allowed Wonder Woman to travel through space in the 1950s, predating the 1960s technology in NASA's North American X-15 that allowed the United States to venture to the edge of space.
 Features on the jet include shape shifting, telepathic abilities and multi-dimensional transport. Although the jet is invisible, its passengers are not, and anyone on board appeared to be floating in the clouds. While Wonder Woman can fly under her own powers, the plane came in handy on many occasions when enlisting the help of friends like Etta Candy and the Holliday Girls or Steve Trevor. The museum was grateful to the Museum of Flight and the Friends of the Princess Diana of Themyscira Society for making this once-in-a-lifetime loan possible.
This object is no longer on display, but you can read more about it on the National Air and Space Museum's blog, check out more Wonder Woman artifacts in the Smithsonian's collections and learn more about her origin story at Smithsonian Libraries and Archives. The Smithsonian's Sidedoor podcast will delve into Wonder Woman's origins, comic books and cultural influences; it will be available in early 2021. And a little fun trivia: some of the scenes in the latest Wonder Woman film, Wonder Woman 1984, were filmed at the Smithsonian.