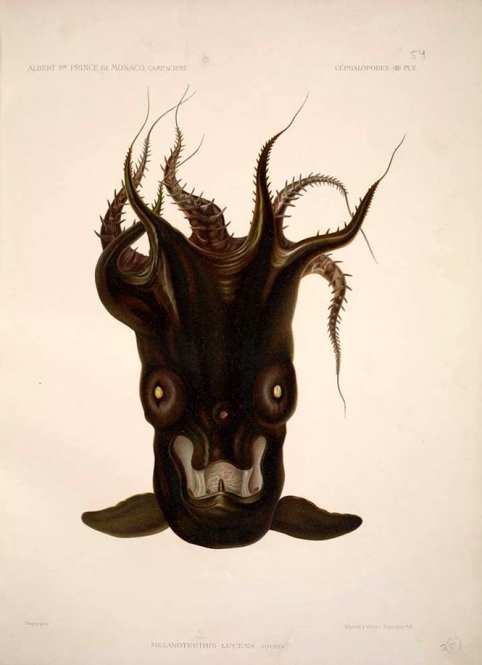 This Smithsonian Snapshot celebrates the Halloween season with this 1889 scientific illustration of a vampire squid from Smithsonian Libraries.
Its jet-black skin, the caped appearance of the webbing between its arms and eyes that appear red under some light conditions are what gave the vampire squid its name.
In 1889, Prince Albert I of Monaco began writing the series Résultats des campagnes scientifiques accomplies sur son yacht. The series, including the volume with this vampire squid illustration, is held for research at the Smithsonian Institution Libraries.
In the early 1900s, the prince's strong interest in protecting the world's oceans and discovering new species led him to establish the Fondation Albert Ier. The foundation promoted his research in the field of oceanography and marine biology.
The vampire squid (Vampyroteuthis infernalis) is the single living representative of the cephalopod group known as the Vampyromorpha. It is a small, deep-sea species found at depths of at least 2,000 to 3,000 feet in the temperate and tropical oceans of the world.
It reaches a maximum total length of around 30 centimeters with a 15-centimeter gelatinous body similar to a jelly fish. It shares similarities with both squid and octopuses. In 1903, it was classified as an octopus by German teuthologist Carl Chun, but later reassigned to a new order.
To learn more about the vampire squid in the wild, visit the Encyclopedia of Life. To learn more about this item, visit the Smithsonian Institution Libraries website.