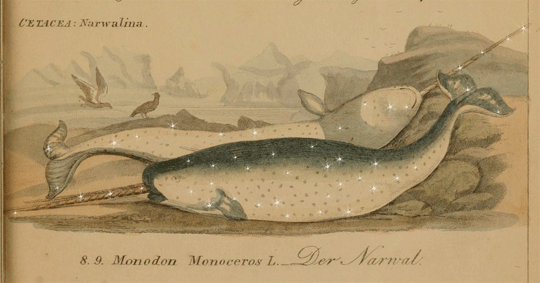 Their tusks are reminiscent of the mythical unicorn, but make no "mythtake," although they are the stuff of legend, narwhals are real animals. Mentions of the narwhal go back for hundreds of years, including stories of them throughout medieval Europe and a detailed description of the aquatic mammal in Herman Melville's Moby Dick.
Not only are they real, narwhals are central to the Inuit people native to Greenland, Alaska and Canada. Hunted by Inuit on Baffin Island in Canada, the narwhal's meat provides sustenance for the body, and its tusk, valued for its artistic and spiritual meaning, provides sustenance for the soul.
The relationship between the Inuit and narwhal, along with insights into what makes this mysterious animal and its changing ecosystem important, are explored in the exhibition "Narwhal: Revealing an Arctic Legend" at the Smithsonian's National Museum of Natural History through 2019. By presenting the vantage point of the Inuit and examining the latest scientific knowledge about these animals, the exhibition illuminates the interconnectedness among narwhals, people and their ecosystems.
To learn more about the book Die vollständigste Naturgeschichte der Vögel, visit the Smithsonian Libraries catalog.