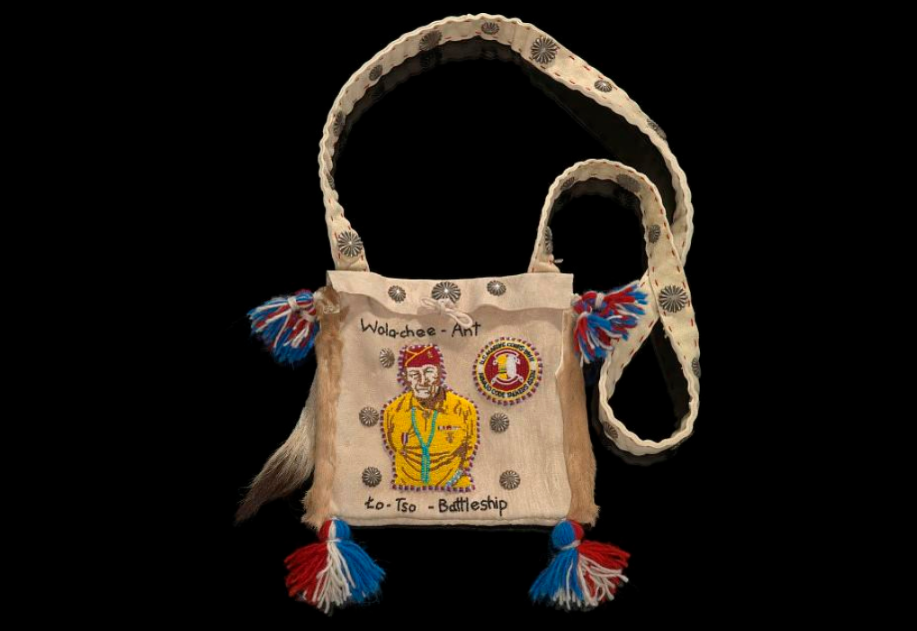 This bag by J.T. Willie (Navajo [Diné]) honors the Navajo Code Talkers who served during World War II. Hundreds of American Indians joined the U.S. armed forces and used words from their traditional tribal languages to gain a tactical advantage. The military asked them to develop secret battle communications based on their languages—and America's enemies never deciphered the coded messages they sent.
In WWI, Choctaw and other American Indians transmitted battle messages in their tribal languages by telephone. Although not used extensively, the WWI telephone squads played a key role in helping the U.S. Army win several battles in France that brought about the end of the war.
The Marine Corps recruited Navajo Code Talkers in 1941 and 1942. Philip Johnston was a WWI veteran who had heard about the successes of the Choctaw telephone squad. Johnston, although not Indian, had grown up on the Navajo reservation. In 1942, he suggested to the Marine Corps that Navajos and other tribes could be very helpful in maintaining communications secrecy. After viewing a demonstration of messages sent in the Navajo language, the Marine Corps was so impressed that they recruited 29 Navajos in two weeks to develop a code within their language. After the Navajo code was developed, the Marine Corps established a Code Talking school.
"Code Talkers," as they came to be known after WWII, are 20th-century American Indian warriors and heroes who significantly aided the victories of the U.S. and its allies. During WWII, about 420 Navajos served as Code Talkers—the most from any Native group.
The Navajo people call themselves the "Naabeeho´ Dine'é, or sometimes, Diné." "Diné Bizaad" is the Navajo term for the Navajo language. Many Navajos still speak their language.
This bag is in the collection of the Smithsonian's National Museum of the American Indian. Learn more about Native American Code Talkers at the museum's education site and at Google Arts and Culture.
Visit the museum's website for information about the National Native American Veterans Memorial, erected in 2020 on the museum's grounds to honor the Native Americans who have served in the U.S. military.