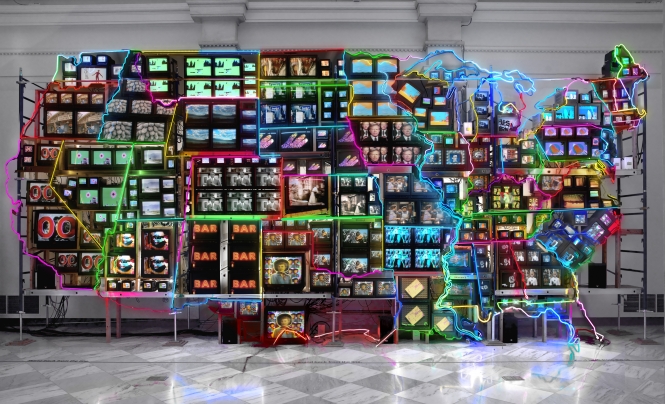 See the U.S.A. on Paik's "Electronic Superhighway"
Nam June Paik is a pivotal figure in the history of modern art. Arguably the most important video artist of all time and certainly among the most influential and prolific, he was a legendary innovator who had a profound impact on late 20th-century art.
When Paik came to the United States in 1964, the interstate highway system was only 9 years old, and superhighways offered everyone the freedom to "see the U.S.A. in your Chevrolet." Neon outlines the monitors, recalling the multicolored maps and glowing enticements of motels and restaurants that beckoned Americans to the open road.
Paik augmented the flashing images "seen as though from a passing car" with audio clips from The Wizard of Oz, Oklahoma and other screen gems, suggesting that our picture of America has always been influenced by film and television. Paik was the first to use the phrase "electronic superhighway," and this installation proposes that electronic media provide us with what we used to leave home to discover. But "Electronic Superhighway" is real. It is an enormous physical object that occupies a middle ground between the virtual reality of the media and the sprawling country beyond our doors.
"Electronic Superhighway" (along with Alaska and Hawaii) is on public display on the third floor of the Smithsonian American Art Museum's main building.