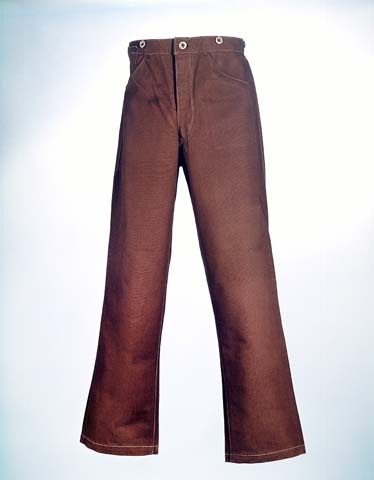 Levi Strauss Jeans, 1875–96
In the late 1800s, San Francisco merchant Levi Strauss and tailor Jacob Davis began manufacturing worker's trousers reinforced by copper rivets—the world's first jeans. The jeans in this photo are one of the oldest known pairs. 
Davis, a fabric customer of Strauss, had complaints from his customers that their pants were ripping apart. In response, Davis developed a way to make the pants even stronger by placing metal rivets at the "points of strain." In 1873, Davis brought his design to Strauss and the partners received the patent for rivets on men's pants. They began selling copper-riveted "waist overalls."
This pair is made of brown duck, a heavy cotton fabric, and it features the familiar riveted pockets, button fly and waistband patch of modern jeans. The first jeans came in two styles—indigo blue and brown duck.
Initially worn by miners and cowboys, jeans evolved into casual clothing for all ages, classes and lifestyles. In the 1890s, the company created its first pair of Levis 501 Original Fit Jeans, a style that went on to become the world's best-selling item of clothing.
This item is one of 137 million artifacts, works of art and specimens in the Smithsonian's collection. It is not currently on display.
Image by Smithsonian's National Museum of American History
For more info, visit http://historywired.si.edu/detail.cfm?ID=484