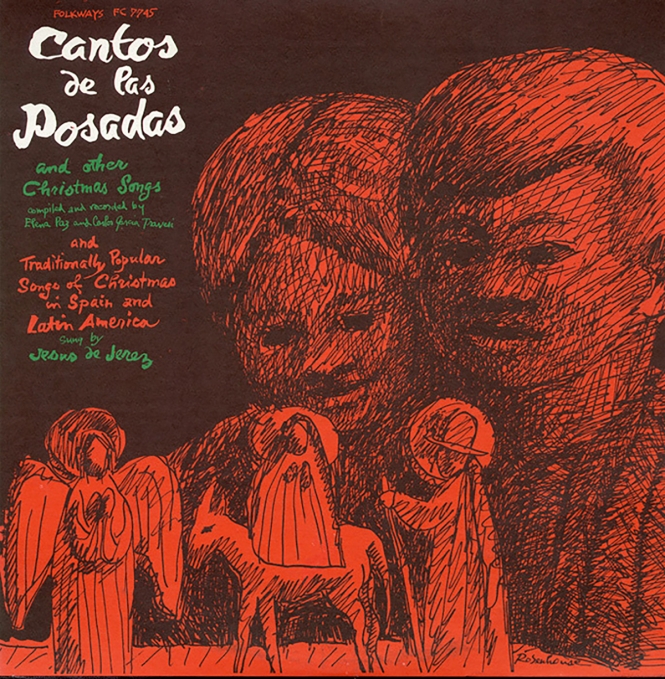 Traditional Sounds of Las Posadas  
Las Posadas is a meaningful Christmas tradition in Spain and many Latin American countries. The term literally translates to "the inns," but it figuratively refers to the shelter that Mary and Joseph sought on their way to Bethlehem. During the nine evenings preceding Christmas Eve, groups of family and friends will gather to reenact Mary and Joseph's journey.
Traditionally, two people will dress as Mary and Joseph, and each night a house will be designated as the "inn" that will allow them inside. As they walk the streets, the groups sing villancicos (Christmas carols) with some members playing instruments as they go. When they arrive at the "inn" the group enters and prays around a Nativity scene. A celebratory feast, akin to Christmas dinner, usually follows.
This Smithsonian Folkways Recording album compiles songs traditionally sung during Las Posadas. These include "¡Miren Cuántas Luces!" ("Look at all the lights!") and "Los Santos Reyes" ("The Holy Kings"). Smithsonian Folkways Recordings is the Smithsonian's nonprofit record label, dedicated to supporting cultural diversity and to the documentation, preservation and dissemination of sound. Smithsonian Folkways is part of the Smithsonian's Center for Folklife and Cultural Heritage.
Media Only
Maria Anderson
andersonm@si.edu  
More from the Smithsonian Snapshot series