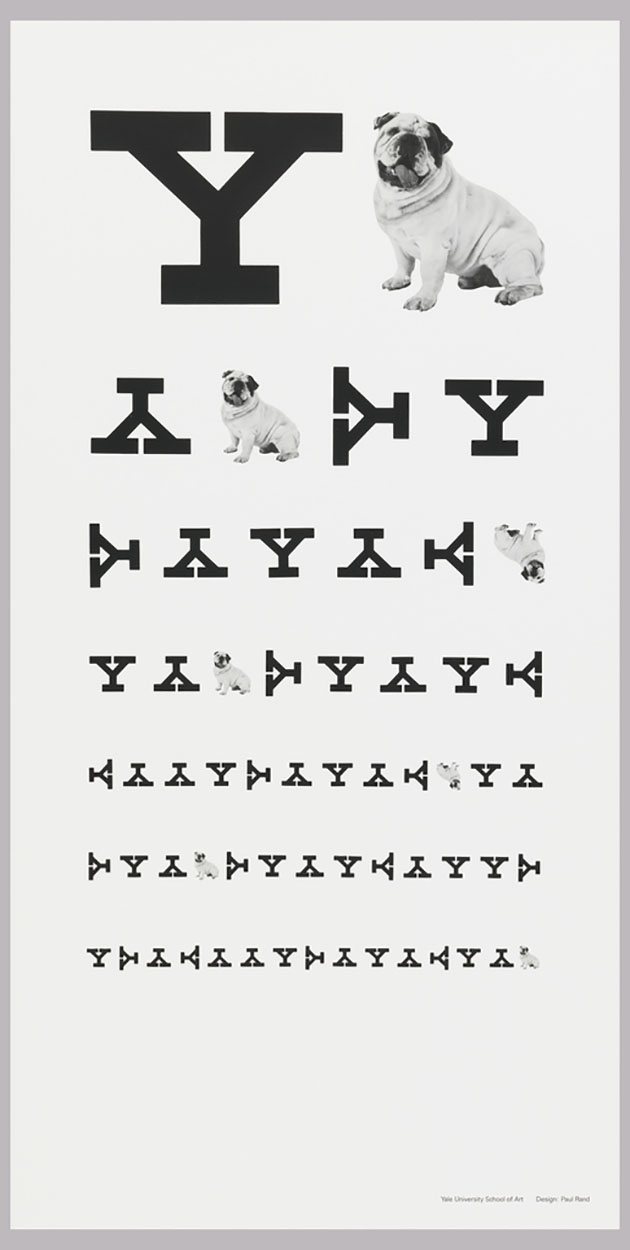 In this poster, graphic designer Paul Rand plays with the iconography of eye charts to create a clever advertisement for Yale University. He incorporates the school's mascot, an English bulldog, into an eye chart composed exclusively of "Y" letter-forms arranged on various axes.
Eye doctor Herman Snellen (Dutch, 1834–1908) developed the most commonly used eye chart in the 1860s. The now iconic Snellen chart contains 11 rows of capital letters decreasing in size as the eye follows the rows down. The smallest row that a patient can read accurately indicates visual acuity.
Before Snellen's standardized eye chart, people diagnosed their vision problems by themselves and picked the corrective lenses they judged appropriate for their vision. Snellen also created the "Tumbling E" chart for illiterate patients, or those unfamiliar with the Roman alphabet. Rather than identifying letter-forms, patients can indicate which way the "E" is facing.
This poster is in the collections of the Cooper Hewitt, Smithsonian Design Museum.
Excerpted from the Object of the Day blog by Adèle Bourbonne. View more posters in Cooper Hewitt's Drawings, Prints and Graphic Design Department and check out more dogs at the Smithsonian.