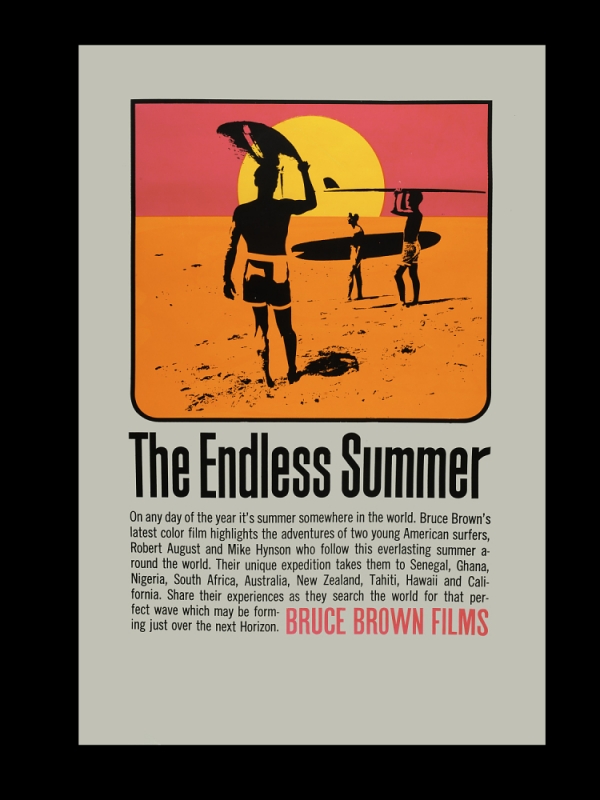 "It's Summer Somewhere in the World"
As snow sweeps across the country and the cold seeps into our bones, thinking about balmy temperatures on exotic shores offers a little relief from winter's icy grip.
This poster, in the collection of the Smithsonian's National Museum of American History, was designed by John Van Hamersveld for the movie The Endless Summer and evokes that idyllic place where surf and sand live forever. Van Hamersveld was the art director for Surfer magazine and a friend of R. Paul Allen, the assistant cinematographer on the movie. He was only paid $150 for the iconic design of the actors and the director silhouetted on the beach against the setting sun. Allen hired silk-screener Eric Askew to produce the poster in a garage in Costa Mesa, Calif.              
The Endless Summer movie was written, produced and directed by Bruce Brown in 1964. Brown also served as the narrator of this surf "diary" following two young surfers for one summer, around the globe, in search of the "perfect wave." It was in limited release in 1964 and released worldwide in 1966.
The movie's simplicity is part of its enduring appeal, and it is an integral part of surf history. By introducing the world of surfing to a wider audience, The Endless Summer helped give rise to the popularity of surf culture that continues to this day.
The poster is currently on view at the 1 Center Artifact Wall. More information about it is available at http://americanhistory.si.edu/collections/search/object/nmah_1761100.