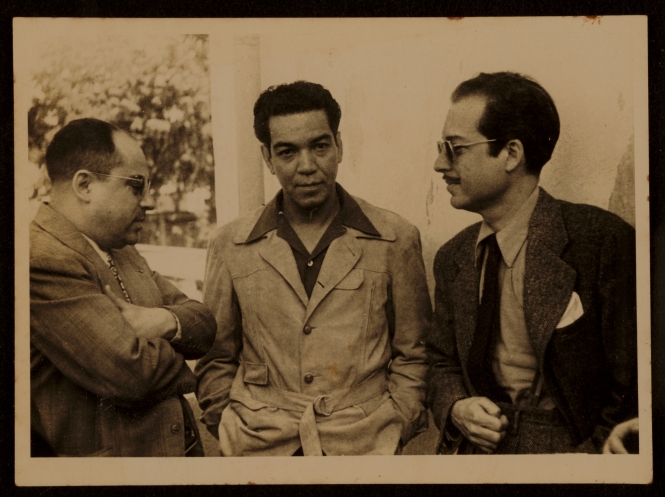 Mario Moreno (Aug. 12, 1911–April 20, 1993), professionally known as Cantinflas, was an iconic Mexican film actor, producer and writer. Often referred to as the Charlie Chaplin of Mexico, Cantinflas won a Golden Globe Award for Best Actor in a musical or comedy for his role in the 1956 film Around the World in 80 Days, and has a star on the Hollywood Walk of Fame. His legendary characters were all variations of the Cantinflas persona—placed in different circumstances but having the same comedic flare.
Audiences responded to Cantinflas' sense of humor, especially his use of language: His characters would often start a simple conversation only to complicate it so much that nobody understood what he was talking about. This manner of speaking became known as Cantinflear, and it was included in the dictionary as a verb by the Real Academia Española in 1992.
This image shows Cantinflas with Cuban cartoonist and artist, Enrique Riverón. Among his papers, Riverón writes about his first meeting with Cantinflas on the day "La Casa del Actor" (a refuge for retired actors) opened in Mexico City. Riverón comments this was a personal project of Cantinflas, whom he describes as "a great humanitarian, known for his enduring will to do right for the humble and poor, and for all his friends." The photo is included in Riverón's papers, which his daughter donated to the Smithsonian's Archives of American Art in 1996.