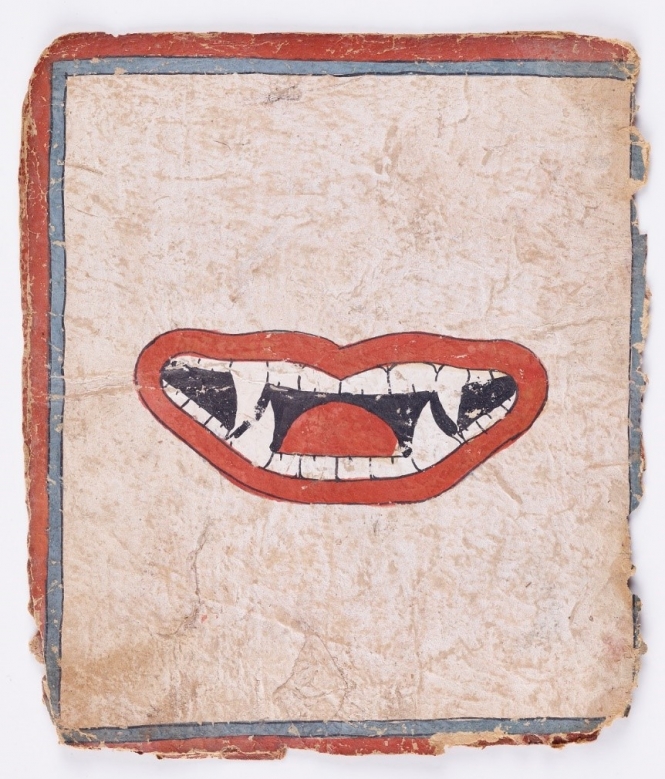 Tibetan Buddhists use specialized meditation techniques to visualize themselves as peaceful or wrathful buddhas, depending on the state of mind they are trying to achieve. Practitioners learn these techniques through initiations, which may involve cards painted with images of body parts, ornaments and offerings, such as the one pictured.
Raising up the cards one by one, a teacher reads aloud the instructions or blessings written on the back as the initiate beholds the image on the front. By viewing the cards, practitioners sharpen their abilities to hold a buddha's image in their minds, building it limb by limb, ornament by ornament.
These 15th-century cards are primarily related to Heruka, a wrathful buddha. Meditating on Heruka's image enables practitioners to destroy all mental obstacles to enlightenment.
Buddhism is practiced by millions around the globe and holds a rich and diverse history spanning more than 2,500 years. "Encountering the Buddha: Art and Practice across Asia," opening Oct. 14 at the Smithsonian's Arthur M. Sackler Gallery and on view through October 2020, reveals how art and place are central to Buddhist understanding and teachings. With more than 250 objects, two immersive environments and integrated digital platforms, the exhibition shares the stories of Buddhist objects and artworks, describing the beings that they represent and the people who engaged with them, their ritual use, their sacred power and their remarkable beauty.
"Encountering the Buddha," opens as a part of the Smithsonian's Freer Gallery of Art and Sackler Gallery reopening-weekend celebration Oct. 14-15 along with three additional exhibitions, Divine Felines: Cats of Ancient Egypt," "Re-sound: Bells of Ancient China" and Subodh Gupta's "Terminal." For more information on the reopening-weekend festivities and events, visit asia.si.edu/reopening.