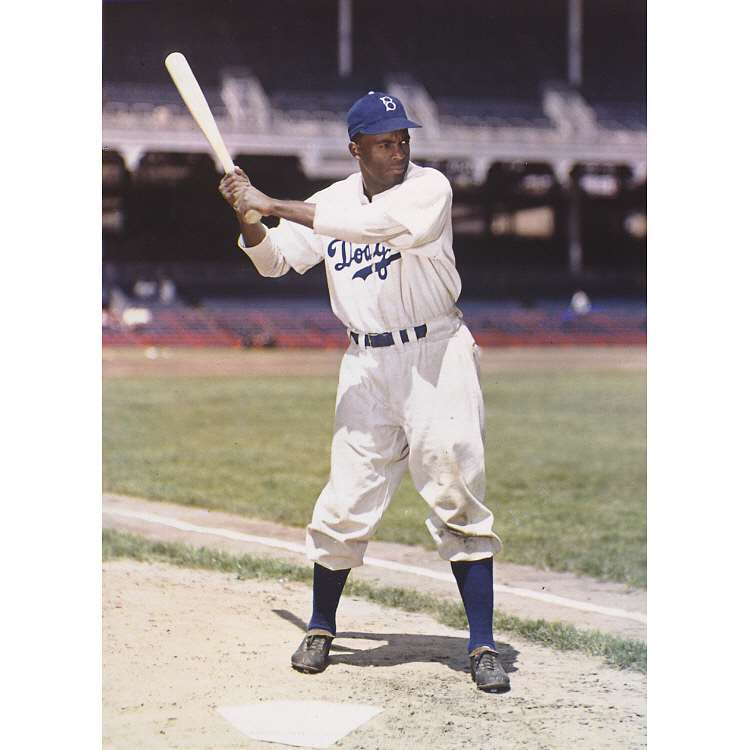 As the first African American to play major league baseball, Jackie Robinson (b. Cairo, Georgia, Jan. 31, 1919; died Oct. 24, 1972) was a pioneer in professional sports. This 1947 photograph by Harry Warnecke pictures Robinson at Ebbets Field during his first season with the Brooklyn Dodgers.
That year was both glorious and unnerving. While winning Rookie of the Year honors and helping the Dodgers to win the National League pennant, Robinson faced intense scrutiny. As he later recalled, "I had to fight hard against loneliness, abuse and the knowledge that any mistake I made would be magnified because I was the only black man out there."
A lifetime .311 hitter, Robinson led the Dodgers to six pennants and one World Series title during his 10-year career. After baseball, Robinson continued to champion the cause of civil rights, serving as the chairman of the NAACP Fight for Freedom Fund.
For more information about Robinson and artifacts related to him, go to the Smithsonian's National Museum of American History's webpage and the Smithsonian's National Museum of African American History and Culture. And watch a video of Hank Aaron speaking about Robinson's influence on him.