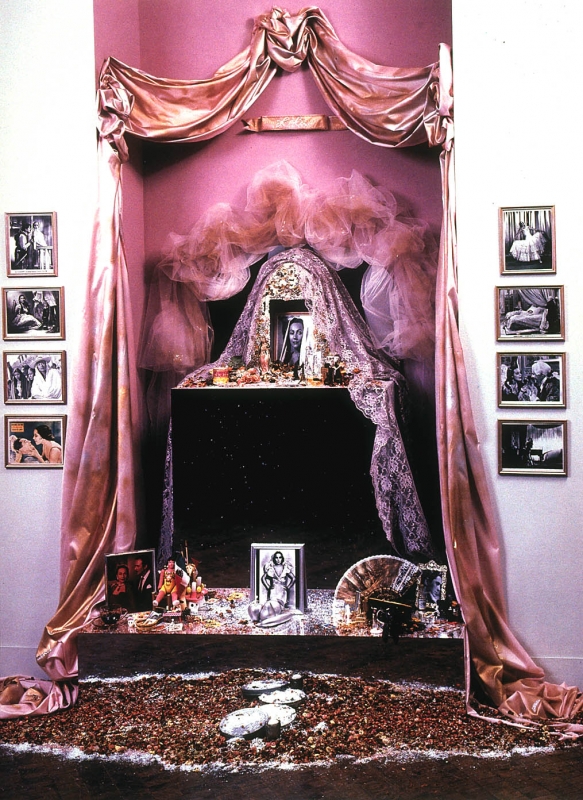 An Altar for the Dead
The Day of the Dead, or Día de los Muertos, is a holiday to commemorate and honor the lives of dead loved ones, with traditions that include feasts, music, vigils and creating temporary ofrendas or altars, such as this one. The ofrenda is composed of mementos, photographs and objects of loved ones who have died and is intended to honor and remember their lives.
It is celebrated Nov. 1 and 2 in Mexico and Central America, and it has become increasingly popular among Latinos in the U.S.
Learn more about the Day of the Dead traditions through the Smithsonian Latino Virtual Museum and check out Amalia Mesa-Bains' "An Ofrenda for Dolores del Rio," part of the Smithsonian American Art Museum's exhibition, "Our America: The Latino Presence in American Art," traveling across the country through 2017.
_______________________________
Un altar para los muertos
El Día de los Muertos es una oportunidad para conmemorar y honrar las vidas de aquellos quienes han fallecido, con tradiciones que incluyen fiestas, música, vigilias y ofrendas temporales como esta. La ofrenda tradicionalmente incluye fotos y objetos que conmemoran a los seres queridos para así honrarlos y recordarlos.
El Día de los Muertos se celebra el 1º y 2º de noviembre en México y Centro América, y esta creciendo en popularidad en los Estados Unidos.
Aprende más acerca de las tradiciones del Día de los Muertos en el Museo Virtual Latino del Smithsonian y sobre esta obra, "An Ofrenda for Dolores del Rio", por la artista Amalia Mesa-Bains, que es parte de la exposición itinerante "Nuestra América: la presencia latina en el arte estadounidense", del Museo de Arte Americano del Smithsonian. "Nuestra América" estará viajando por todo el país hasta el 2017.