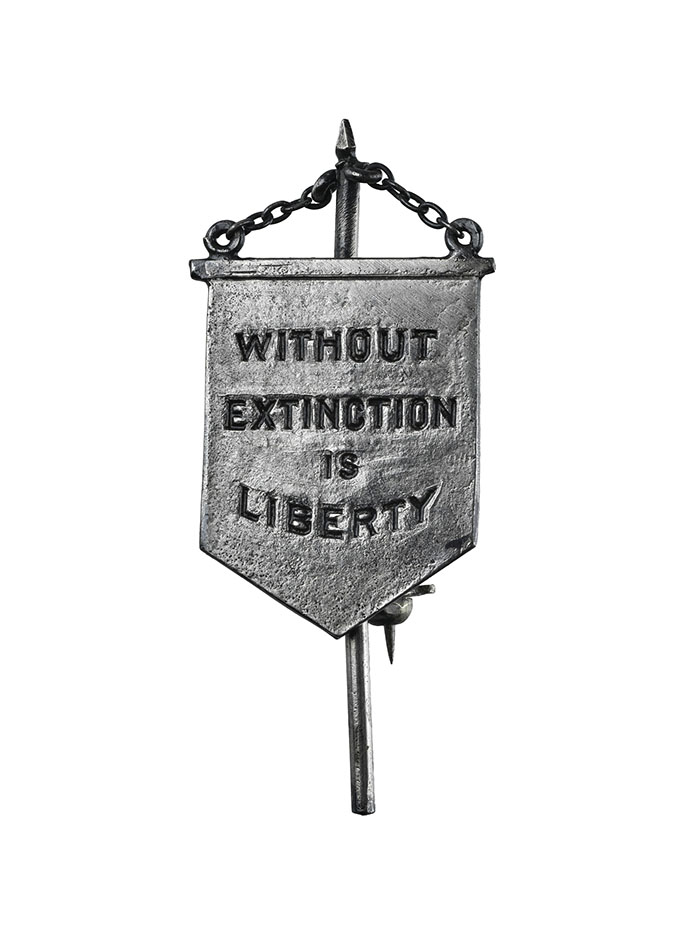 In January 1917, Alice Paul and the National Woman's Party (NWP) became the first people to ever picket the White House. Frustrated after years of continued opposition to a women's suffrage amendment, Paul and the other suffragists held banners that read: "Mr. President How Long Must Women Wait for their Liberty?" and "Mr. President What Will you do for Woman Suffrage?"
These "silent sentinels" stayed outside the White House gates, no matter the weather, ignoring the threats and taunts directed their way. Some people, who viewed the picketing as treasonous during a time of war, even attacked the suffragists and destroyed their banners. Paul and other NWP members were arrested several times and were forcibly fed when they went on hunger strikes to demand rights for political prisoners.
For their courageous service, they were given these small, silver banner pins engraved with the line "Without Extinction Is Liberty," from a Walt Whitman poem. The reverse of the pins read: "For service in the cause of the freedom of women Presented by the National Woman's Party."
This pin is part of the Smithsonian's National Museum of American History collections, which explore the infinite richness and complexity of American history. The museum's exhibition, "American Democracy: A Great Leap of Faith,"  looks at the many ways each generation has worked to establish and perfect America's government. While the 19th Amendment granted women the right to vote, African American women were denied equal access to the ballot. The National Museum of African American History and Culture shares five African American suffragists you should know.