Walmart Donates $5 Million Toward Construction of the National Museum of African American History and Culture
October 25, 2011
News Release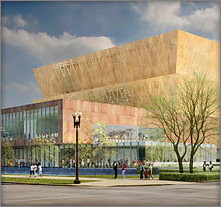 Walmart has donated $5 million to the Smithsonian in support of the National Museum of African American History and Culture.
"We know the rich history that will soon be on display at the museum is something important to preserve, study and experience," said Sharon Orlopp, global chief diversity officer at Walmart. "We share the Smithsonian Institution's passion to promote and honor diversity and the contributions that African Americans have made to our country and culture." Walmart's support of NMAAHC is a part of the company's continued commitment to advance causes that promote diversity and inclusion, according to Walmart's statement.
As a founding donor, Walmart is facilitating the construction of the more than 300,000-square-foot museum. Construction is scheduled to begin in 2012 with a grand opening slated for the fall of 2015. Until then, NMAAHC is presenting touring exhibitions in major cities across the country and in its own gallery in the National Museum of American History in Washington, D.C. The museum will be built at a cost of $500 million on a five-acre site adjacent to the Washington Monument on the National Mall.
"We are grateful to Walmart for its commitment to help educate people—all people—to the unique role African Americans played in our nation's growth and history," said Lonnie G. Bunch, founding director of NMAAHC. "Having Walmart join us early in the development of this museum helps bolster our fundraising efforts and ensures we can establish this historic resource for all Americans."
The National Museum of African American History and Culture was established in 2003 by an Act of Congress, making it the 19th Smithsonian Institution museum. It is the only national museum devoted exclusively to the documentation of African American life, art, history and culture.
# # #
SI-472-2011