Vintage Indian Chief Motorcycle at the National Museum of the American Indian
Bike From the Barber Museum Is a Preview for "Americans," Opening in October
April 27, 2017
News Release
Addthis Share Tools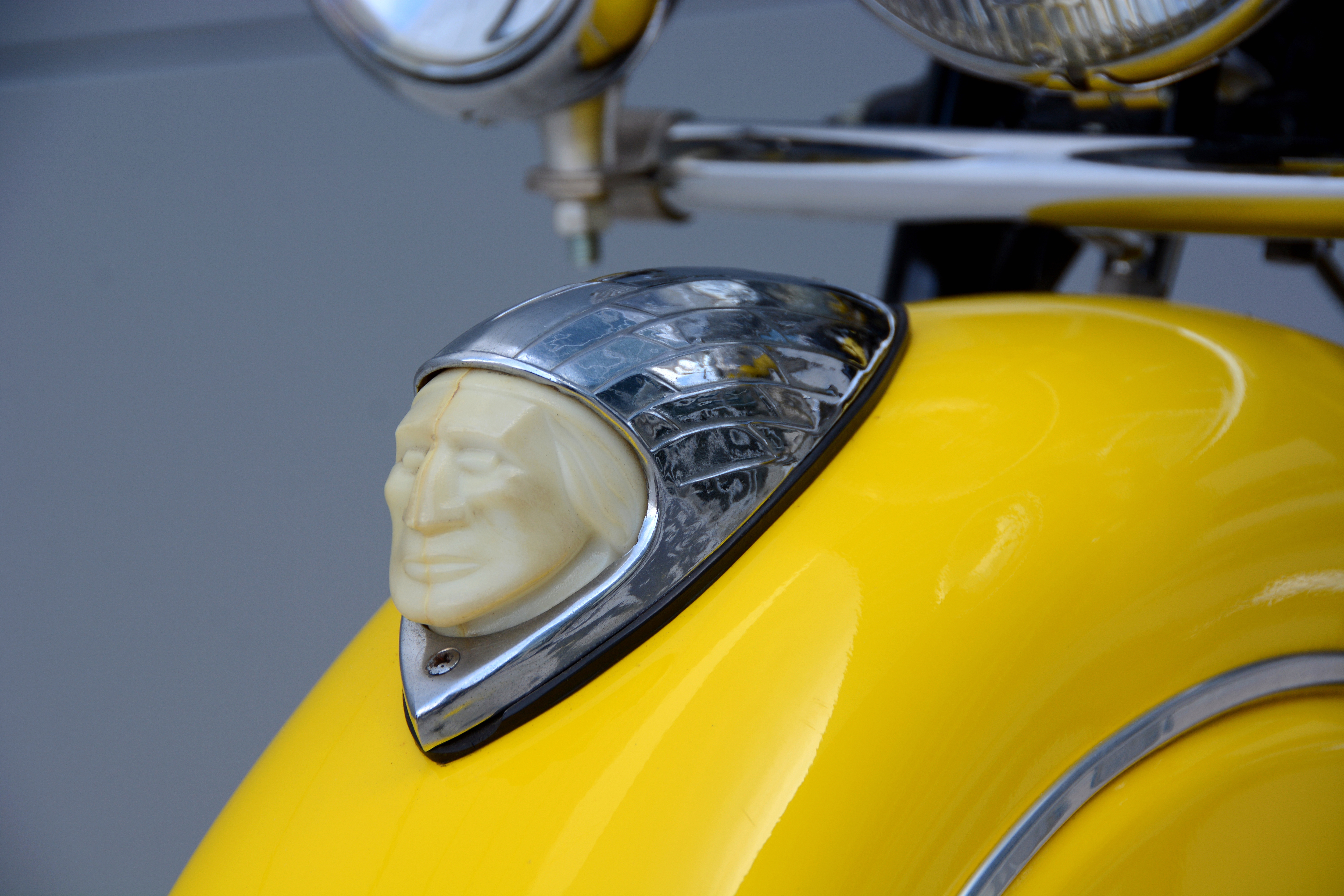 A 1948 Indian Chief motorcycle will go on view at the Smithsonian's National Museum of the American Indian May 4. The motorcycle is on loan from the Barber Vintage Motorsports Museum in Birmingham, Ala., and will be on display in the Potomac Atrium in anticipation of the upcoming permanent exhibition, "Americans." From its origin as a bicycle brand exported overseas through its transition to a motorcycle line, the "Indian" name has signified American quality to foreign and domestic customers alike.
Considered the most stylish of mass-produced motorcycle models, the Indian Chief is the first object from the exhibition to go on display. It will take up long-term residence on the third floor when the 9,000-square-foot exhibition opens in October. The motorcycle's fender ornament is an Indian figure with headdress; other models were adorned with features such as the word Indian in stylish script and an Indian head painted on the tank. The company's first advertising executive said, "No more popular or wealth-producing name could have been chosen." The first Indian motorcycle was sold in 1902; in 1904, the company introduced it in a deep-red shade colloquially known as Indian Red. By the late 1930s, the models could be customized with colors such as Mohawk Green, Seminole Cream, Navajo Blue and Apache Gray. Throughout its lifetime, the brand has used various forms of Indian imagery, including the current logo of an Indian wearing a feathered headdress.
In "Americans," the 1948 Indian Chief will be joined by hundreds of images and objects ranging from a Tomahawk missile to baking powder cans, all demonstrating that Indian words and images are everywhere in American life. Through this display and an examination of the staying power of four stories—Thanksgiving, Pocahontas, the Trail of Tears and the Battle of Little Bighorn—this exhibition shows that Americans have always been fascinated, conflicted and profoundly shaped by their relationship to American Indians.
Support for this exhibition is provided by the Cherokee Nation.
For additional information about the National Museum of the American Indian, visit AmericanIndian.si.edu. Follow the museum via social media on Facebook, Twitter and Instagram.
# # #
SI-250-2017