Titanoboa: Monster Snake Premieres at the National Museum of Natural History March 28
Film Is Shown in Conjunction with the Opening of the Titanoboa Exhibition March 30
March 19, 2012
News Release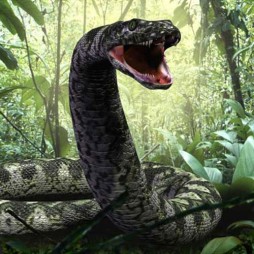 The Smithsonian's National Museum of Natural History will host a free film screening of the Smithsonian Channel's documentary Titanoboa: Monster Snake March 28 at 5:30 p.m. in the museum's Baird Auditorium. The screening will be followed by a panel discussion from the scientists who spearheaded the research: Carlos Jaramillo from the Smithsonian Tropical Research Institute, Jonathan Bloch from the Florida Museum of Natural History and Jason Head from the University of Nebraska at Lincoln. The film will premiere on the Smithsonian Channel April 1 at 8 p.m.
The museum is also presenting its newest temporary exhibition, "Titanoboa: Monster Snake," opening to the public March 30. The startling discovery of Titanoboa was made by the team of scientists working in one of the world's largest open-pit coal mines at Cerrejon in La Guajira, Colombia. This 2,500-pound, 48-foot-long prehistoric snake was found near fossilized plants, giant turtles and crocodiles dating back to the Paleocene epoch, more than 60 million years ago when the world's first known rainforest existed, and dinosaurs no longer ruled the Earth. The exhibition will run through Jan. 6, 2013.
The traveling exhibition will present a scientifically accurate full-scale replica of the massive reptile as well as film clips from the Smithsonian Channel documentary. The film will allow visitors to experience the process of discovery, reconstruction and importance of this prehistoric monster snake.
The "Where to Watch" section of the Smithsonian Chanel website gives schedule information.
# # #
SI-117-2012