Smithsonian's National Portrait Gallery Hosts Star-Studded 2019 American Portrait Gala
Red Carpet Affair Raises More Than $2 Million
November 18, 2019
News Release
Addthis Share Tools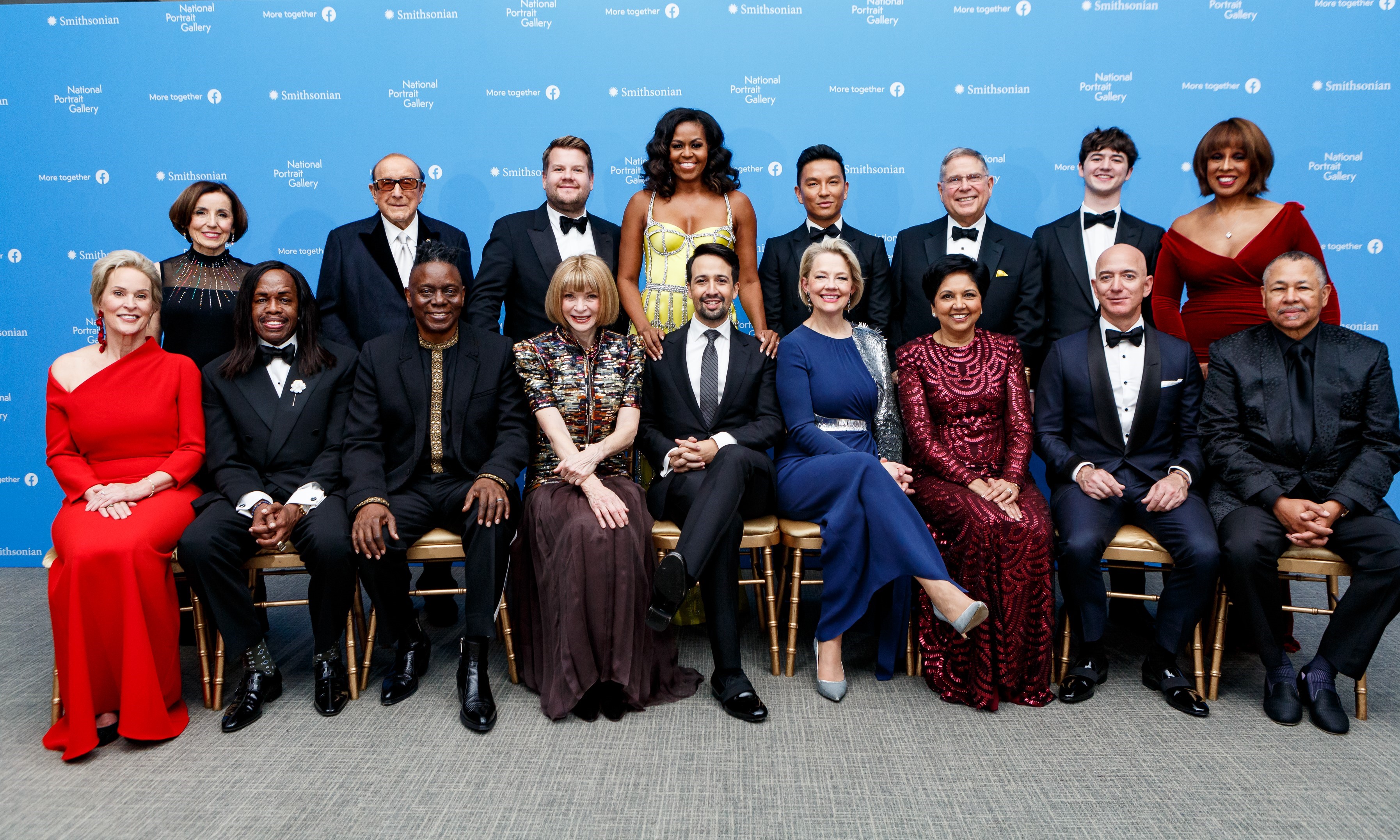 The Smithsonian's National Portrait Gallery shined last night with more than 700 attendees at its 2019 American Portrait Gala Sunday, Nov. 17. The red carpet event was attended by national cultural icons, celebrities and artists from across the country, and raised more than $2 million in support of the museum's endowment for exhibitions. The event honored Frances Arnold, scientist, engineer and Nobel Laureate; Jeffrey P. Bezos, tech entrepreneur and philanthropist; Earth, Wind & Fire (Maurice White [posthumously], Philip Bailey, Verdine White, Ralph Johnson), award-winning American band; Lin-Manuel Miranda, composer, lyricist and actor; Indra Nooyi, business executive; and Anna Wintour, editor in chief of Vogue, U.S. artistic director and global content advisor of Condé Nast.
The honorees received the museum's "Portrait of a Nation Prize" for their significant contributions to the nation's shared history, development and culture. As part of the evening's festivities, guests received a private viewing of the honorees' portraits, which will remain on view in the museum's "Recent Acquisitions" exhibition through Aug. 30, 2020.
"The 2019 American Portrait Gala was a night like no other here at the Smithsonian's National Portrait Gallery," said Kim Sajet, director of the museum. "We honored an incredible group of people who have excelled in their chosen fields and then made it made a commitment to pass on their knowledge and advice to the next generation. Equally impactful were their presenters, who proved that every person, no matter how accomplished, needs the support of family and friends to succeed; and the artists whose skills have left a visible reminder that representation matters."
Following the red carpet arrivals, guests enjoyed a private viewing of the honorees' portraits by Jon R. Friedman (Nooyi), Katy Grannan (Arnold), Robert McCurdy (Bezos), Annie Leibovitz (Wintour), Mark Seliger (Miranda) and Bruce W. Talamon (Earth, Wind & Fire). Attendees then mingled over cocktails in the museum's Great Hall, where President Abraham Lincoln held his second inaugural ball. The dinner featured a dynamic program emceed by journalist and television personality Gayle King, with some of the speakers dressed in designs by the evening's Honorary Fashion Designer Prabal Gurung.
Presentations of the "Portrait of a Nation Prize" included Michelle Obama, former First Lady, to Miranda; France Córdova, astrophysicist and director of the National Science Foundation, to Arnold; James Corden, actor, comedian and television host of The Late Late Show, to Wintour; Alberto Ibargüen, president and CEO of the John S. and James L. Knight Foundation, to Nooyi; Clive Davis, Grammy Award-winning music industry executive and member of the Rock and Roll Hall of Fame, to Earth, Wind & Fire; and Preston Bezos, son, to his father. Members of the Portrait Gallery's Teen Museum Council also participated in the program. The night culminated with guests dancing to a live musical performance by Earth, Wind & Fire, that included the band's iconic hit, "September."
The American Portrait Gala's 2019 national chairs are Randi Charno Levine and Jeffrey Levine and Joseph P. Ujobai and Eduardo Ardiles, and the Washington, D.C., chairs are Kristin and John Cecchi and Susanna and Jack Quinn. Facebook is the lead sponsor. Co-chairs of the event include Accenture, Robert and Arlene Kogod, Michael and Catherine Podell, and David M. Rubenstein. Founding chairs are Wayne and Catherine Reynolds. The vice chairs are Jeffrey P. Bezos, JP Morgan, Indra Nooyi, Tom L. Pegues and Donald Capoccia, Jay and Tracy Snyder, Patty Stonesifer and Jon and Sandra Willen.
Artists in attendance included: Friedman, Leibovitz, McCurdy, Talamon, Rubenstein and Amy Sherald; TV/film/sports personalities included Bret and Amy Baier, Dana Bash, Kathy Bates, Spencer Garrett, Patina Miller, Mia Moretti, Ali Leroi, Sela Ward and Ryan Zimmerman; Officers/politicians included Huma Abedin, United Arab Emirates Ambassador Yousef Al Otaiba and Abeer Al Otaiba, Qatari Ambassador Meshal Bin Hamad Al-Thani, Ambassador Stuart Bernstein, Wilma Bernstein, Rep. Don Beyer, Sen. Roy Blunt, former Secretary of State Hillary Rodham Clinton, Frank Dunlevy, Ambassador Joseph Gildenhorn, Alma Gildenhorn, House Majority Leader Steny Hoyer, Jordanian Ambassador Dina Kawar, Sen. Patrick Leahy, Rep. Doris Matsui, Gov. Terry McAuliffe, Rep. Mark Meadows, Maria Otero and Joseph Eldridge, Her Majesty Empress Pahlavi, Speaker Nancy Pelosi, Swiss Ambassador Jacques Pitteloud and Angélique Pitteloud, Secretary Wilbur Ross and Her Royal Highness Ghida Talal; Business leaders, philanthropists, art world luminaries and other notables included Rick and Jane Atkinson, Lyndon Barrois and Janine Sherman Barrois, Tracy and Adam Bernstein, Cynthia Blumenthal, John and Carol Boochever, David and Katherine Bradley, Jay Carney, Rep. Joseph Crowley, Danielle Parris Canfield and Thomas Canfield, Rose and Paul Carter, Beth Rudin DeWoody, Isabel de la Cruz Ernst, Samia and A. Huda Farouki, Kay Kendall and Jack Davies, Kristen Lund, Antonio Lucio, David and Susan McCombs, Marlene A. Malek, David Mars, Mary V. Mochary, Patricia Quealy Moore and Walter Moore, Dennis and Trudy O'Toole, Eduardo Rabassa and Patricia Marcos, Elizabeth and Philip Ryan, Roger Sant, Alyssa Taubman and Robert Rothman, Annie Simonian Totah and Darren Walker.
Facebook is the lead sponsor of the 2019 American Portrait Gala. Vanity Fair is the national media partner, and Washington Life is the local media partner. The Jefferson Hotel and Total Wine generously provided in-kind support.
For more information on the American Portrait Gala, visit npg.si.edu/gala.
National Portrait Gallery
The Smithsonian's National Portrait Gallery tells the multifaceted story of the United States through the individuals who have shaped American culture. Spanning the visual arts, performing arts and new media, the Portrait Gallery portrays poets and presidents, visionaries and villains, actors and activists whose lives tell the American story.
The National Portrait Gallery is part of the Donald W. Reynolds Center for American Art and Portraiture at Eighth and F streets N.W., Washington, D.C. Smithsonian Information: (202) 633-1000. Connect with the museum at npg.si.edu, Facebook, Instagram, Twitter and YouTube.
# # #
SI-458-2019