Smithsonian's National Air and Space Museum Offers Behind-the-Scenes Experience
Public Invited to the Steven F. Udvar-Hazy Center Open House
March 1, 2018
News Release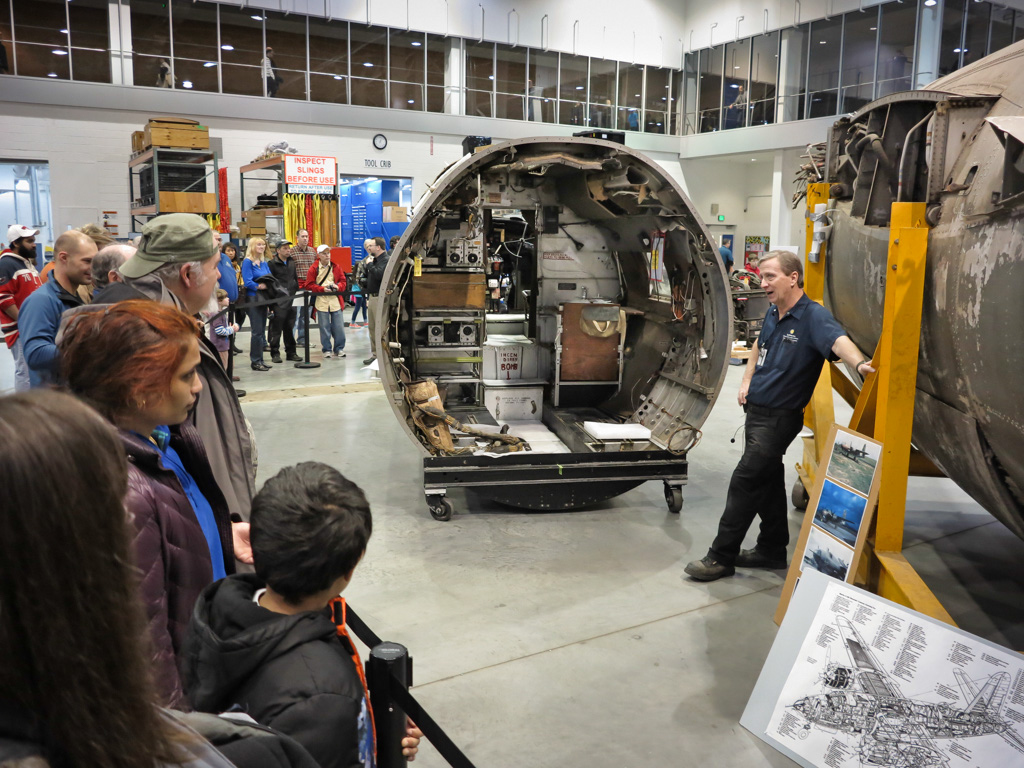 The annual Steven F. Udvar-Hazy Center Open House will give visitors a chance to see what goes into restoring, preserving and displaying America's aviation and space treasures. On Wednesday, March 28, in Chantilly, Va., visitors can tour areas usually off limits to the public, including the Mary Baker Engen Restoration Hangar and the Emil Buehler Conservation Laboratory. The event will take place from noon to 7 p.m. and will include behind-the-scenes tours, interactive restoration demonstrations and hands-on activities for all ages. Admission to the museum and Open House is free; parking is $15.
At this year's event, visitors will learn how the Udvar-Hazy Center supports the upcoming renovation of the museum in Washington, D.C. Museum staff will share the work they do to move and conserve artifacts and develop exhibitions.
Activities will include:
Exploring the Mary Baker Engen Restoration Hangar and the work the restoration staff is doing on the biplane Lincoln-Standard H.S., which will go into the new "America by Air" gallery, and the Martin "Marauder" B-26 Medium Bomber Flak-Bait. Entrance to the hangar will close at 6:15 p.m. to allow visitors to experience the completed tour before the museum closes at 7 p.m.
Visiting the exhibits workshop to learn how exhibitions are designed and fabricated.
Going inside a collections storage room to learn about how artifacts are stored, cared for and moved from one museum location to another.
Touring the Emil Buehler Conservation Laboratory to explore the science behind artifact preservation and care, see current projects such as the primate space capsule and learn how 3-D digital microscopes are used in conservation.
Visiting the National Air and Space Museum Archives and learning about the museum's newest archival materials. 
For more information about the event, visit https://airandspace.si.edu/open-house-2018.
About the National Air and Space Museum's Udvar-Hazy Center
Since it opened in conjunction with the Centennial of Flight in 2003, the Udvar-Hazy Center has expanded in all areas, most notably with a wing devoted to collections care. This section contains several state-of-the-art storage facilities for entire collections, such as spacesuits and works of art, as well as a conservation lab, processing units and the 48,000-square-foot Mary Baker Engen Restoration Hangar. The museum's archival research facility, containing millions of documents, photographs and film and video collections, is also at the center. The number of major artifacts on display, arranged in thematic sections following a "displayed storage" design scheme, has risen from 348 in 2003 to more than 3,250 today.
The National Air and Space Museum in Washington, D.C., is located at Sixth Street and Independence Avenue S.W. The Steven F. Udvar-Hazy Center is located in Chantilly, Va., near Washington Dulles International Airport. Both facilities are open daily from 10 a.m. until 5:30 p.m. (closed Dec. 25). Admission is free, but there is a $15 fee for parking at the Udvar-Hazy Center.
# # #
SI-165-2018