Smithsonian's Hirshhorn Presents "Doug Aitken: SONG 1"
Groundbreaking 360-Degree Projection Screens on Outside of Museum Building
February 22, 2012
News Release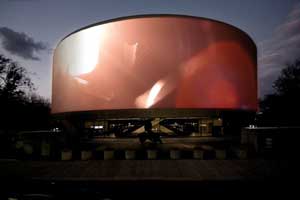 For nearly eight weeks this spring, internationally renowned artist Doug Aitken (American, b. Redondo Beach, Calif., 1968; lives and works in Los Angeles and New York) will illuminate the façade of the Hirshhorn's iconic cylindrical building by completely covering it with moving images, accompanying them with an original soundscape. Using 11 high-definition video projectors, Aitken will seamlessly blend imagery to envelop the museum's exterior, creating a work that redefines cinematic space. A bold commission that will enter the Hirshhorn's permanent collection, "SONG 1" (2012) will enhance the museum's ever-expanding holdings of cutting-edge moving-image art. Between sunset and midnight from March 22 to May 13, visitors to the National Mall will witness the first-ever work of 360-degree cinema to be presented in a continuous cylindrical format, as it unfolds on a monumental scale across the concrete façade.
This work, which Aitken considers "a reflection of contemporary reality," will alter the relationship between the museum building and its urban environment. "The building is at times emphasized and at times disappears completely into the content of the artwork," he writes. At these latter moments, the structure recedes into cinematic space, rotating, rising and evolving into new forms.
"Aitken works at the intersection of nature, the urban landscape, cinema, music and architecture," said Hirshhorn deputy director and chief curator Kerry Brougher, who organized the exhibition. "With 'SONG 1' the artist develops a new vocabulary to turn the world of the moving image inside out. He directs the tempo of life around the museum. The façade of the Hirshhorn is not merely a screen for the projection of some fictional cinematic world—it is a turntable of contemporary life."
Aitken has a wide and varied exhibition history that stretches back two decades. In 1999, he completed "Electric Earth" (1999), the eight-channel installation that won him the International Prize at the 48th Venice Biennale. In recent years, Aitken has become known for outdoor multimedia installations such as "sleepwalkers" (2007), a cinematic examination of urban life created for the exterior of the Museum of Modern Art in New York, and "Frontier" (2009), an exploration of the fluid boundaries between experience and memory, presented on Rome's Isola Tiberina. And for "Black Mirror" (2011), which debuted on the island of Hydra in Greece, an installation and performance on a barge was an integral part of the work. His project for the Hirshhorn is his most ambitious to date.
Aitken has structured "SONG 1" around "I Only Have Eyes for You." This pop standard, a gem of three-minute songcraft originally written in 1934, melds an ultraminimal statement of desire and dedication with an unforgettable composition. Because "I Only Have Eyes for You" has become ubiquitous over the past 75 years, it has become a concise unit of communication that is universal¬—each viewer has a personal connection to the song that is mirrored by the characters seen in "SONG 1." The perfect pop song is not just a historical record but a cultural source that has the ability to renew and reinvent itself endlessly for each listener.
Aitken's treatment of the museum frees the architecture from its own form and mass. "SONG 1" can appear as a single image, but one that can rotate freely or seem to continually rise toward the sky, transforming viewers' perception of this well-known, massive building and their relationship to it. Likewise, the image can be subdivided endlessly into smaller moving images, all the while closely following the tempo of the soundtrack, a steady 60 beats per minute. This musical track spans many genres, ranging from time-honored renditions of the song to abstract electronic compositions, from American traditionalism to modern-classical minimalism. Likewise, the images in "SONG 1" can appear to form a character-driven narrative, while at times slipping into pure abstraction, where hypnotic, repetitive actions and movements take place in increasingly surreal settings.
The interaction between performance and environment is a central concern of the artist, not merely in the fictional space of the film but in physical space with the viewer. As "SONG 1" is an exploration of the contemporary condition, Aitken has employed a broad cross-section of performers in order to realize this vision. With contributions from well-known personalities such as actress Tilda Swinton, musician John Doe, from the Los Angeles punk band X, and avant-folk singer Devendra Banhart, as well as street dancers, members of underground bands, gospel singers and a host of other non-actors, the work communicates each performer's honesty and singularity through their renditions of "I Only Have Eyes for You," both on screen and on the soundtrack. In order to emphasize the universality of the song, dozens of versions of "I Only Have Eyes for You" have been specially created for "SONG 1" by a stylistically diverse group of musicians, including Beck, James Murphy of LCD Soundsystem, Banhart, Mountains, CFCF, High Places, No Age and Lucky Dragons.
"SONG 1" is a continuous experience; it is unlikely that anyone will perceive it the same way twice. The piece, which is impossible to see in its entirety from a single vantage point, compels the viewer to walk around it in order to experience different visuals and parts of the related sound mix. The exhibition will be both a perceptual experience and a collective event. "SONG 1" will empower the viewer, creating the potential for infinite encounters, long or brief, anywhere near or far within sight of the museum. From a passing car to an office building high above the museum, wherever the Hirshhorn is visible, "SONG 1" will be on view.
The exhibition, which is the first of its kind ever in Washington, D.C., and takes public art in the city to a new level of visibility, is one of the signature projects being organized in advance of the Hirshhorn's 40th anniversary in 2014. It is one of the key initiatives in the museum's effort to curate its public spaces by working with game-changing artists to create substantive projects that encourage discussion about contemporary artistic, cultural and social issues. "Doug Aitken: SONG 1" also extends the Hirshhorn's series of groundbreaking exhibitions encompassing moving-image art and expanded cinema that includes "Visual Music: Synaesthesia in Art and Music Since 1900" (2005) and the two-part "The Cinema Effect: Illusion, Reality, and the Moving Image" (2008).
"Doug Aitken: SONG 1" is organized by the Hirshhorn Museum and Sculpture Garden, Smithsonian Institution. Artwork courtesy 303 Gallery, New York; Galerie Eva Presenhuber, Zürich; Victoria Miro Gallery, London; and Regen Projects, Los Angeles. The installation is generously supported by YoungArts, the core program of the National Foundation for Advancement in the Arts, and the Hirshhorn Collections Fund.
A fully illustrated artist's book accompanies the exhibition, containing essays by Brougher, rock critic Barney Hoskyns, author of books including Waiting for the Sun: Strange Days, Weird Scenes, and the Sound of Los Angeles (1996), and Dean Kuipers, an editor at the Los Angeles Times who writes often on music and collaborated with Aitken on the book I Am a Bullet: Scenes from an Accelerating Culture (2000).
Related Programs
The Hirshhorn offers a range of interactive educational experiences designed to engage people of all interest levels in contemporary art. On Thursday, March 22, at 7 p.m., Aitken will deliver the James T. Demetrion lecture, speaking in conversation with Brougher about the concepts and process that inform the present work and highlighting elements of Aitken's career to date. On Friday, May 11, a free evening event including an appearance by a special musical guest will take place on the museum's plaza. Conceived by Aitken as an extension of the artwork into the realm of live performance, it will function as the capstone to the exhibition. Artists and other experts address "Doug Aitken: SONG 1" in depth in several outdoor evening talks; consult hirshhorn.si.edu for a complete schedule. The museum's library of podcasts makes gallery walk-throughs and interviews with artists accessible internationally.
About the Hirshhorn
The Hirshhorn Museum and Sculpture Garden, the Smithsonian Institution's museum of international modern and contemporary art, has nearly 12,000 paintings, sculptures, photographs, mixed-media installations, works on paper and new media works in its collection. The Hirshhorn presents varied exhibitions and offers an array of public programs that explore modern and contemporary art. Located at Independence Avenue and Seventh Street S.W., the museum is open daily from 10 a.m. to 5:30 p.m. (except Dec. 25). Admission to the galleries and special programs is free. For more information about exhibitions and events, please visit hirshhorn.si.edu. Follow the Hirshhorn on Facebook at facebook.com/hirshhorn and on Twitter at twitter.com/hirshhorn. To request accessibility services, please contact Kristy Maruca at marucak@si.edu or (202) 633-2796, preferably two weeks in advance.
# # #
SI-79-2012