Smithsonian's Arts and Industries Building Serves as Headquarters for By the People Festival
The Building Will Host Art Installations and Programming
June 11, 2018
News Release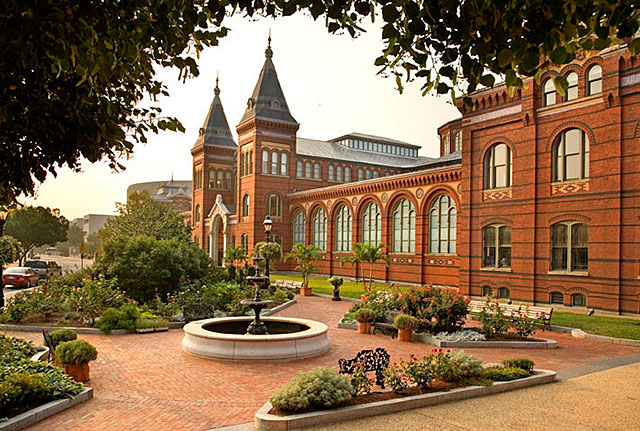 The Smithsonian's Arts and Industries Building (A&I) will serve as the headquarters and central hub for the inaugural By the People Festival, an international arts and dialogue festival taking place across Washington, D.C., Thursday, June 21, through Saturday, June 24. Presented by Halcyon, the four-day arts takeover was created to promote empathy and spark civil discourse. It features performances, original art installations, important conversations, an augmented-reality art hunt and more. During the festival, the A&I will house art installations and free programs from 10 a.m. to 6 p.m. On Saturday, June 23, A&I and other Smithsonian museums will stay open until midnight for "Solstice Saturday."
Art Installations
Interactive art installations in A&I on festival themes of life, liberty and the pursuit of happiness include:
Jenny Sabin's "LUX," a knitted canopy of light representing the festival theme of "life." The delightful, multisensory environment inspires collective play and interaction as the structure and materials transform throughout the day and night.
Dan Steinhilber's "Untitled Interface Site (The Mutual Enjoyment of Justice By the People)," a colorful forest of interconnected inflated bubbles made of plastic stretch wrap. Visitors are encouraged to have a conversation about the work's theme of "liberty" inside the installation, outside of the installation or halfway in, halfway out.
Maya Freelon's "Reciprocity Respite & Repass" an immersive sculpture of colored tissue paper representing the festival theme of "happiness." In the spirit of traditional quilting bees, the public is invited to art-making workshops where visitors can add to the colorful sculptures.
Linda Hesh's "Put the 'I' into Civic" sculpture, which invites visitors to stand in the space of the missing "I" to complete the artwork. The interactive work is meant to spark conversations about what it means to be civic-minded.
Halcyon Arts Lab Fellow Georgia Saxelby encourages the public to participate in her interactive artwork, "To Future Women: A 20-Year Time Capsule of Letters to the Next Generation." Sitting at a desk, visitors are invited to write a letter to women 20 years in the future. The installation will include a display of the letters.
"Monument to Picnics," Rachel Schmidt's interactive installation made from recycled materials, will be in A&I's central rotunda. It invites visitors to enjoy a picnic on the faux grass while watching video of sunsets projected on faux clouds. The artist created her work as a future monument, drawing attention to the environment in a time when leisure activities in nature may soon be unattainable for many people. "Monument to Picnics" is intended to be experienced in the spirit of outdoor picnics and in the tradition of individuals sharing a communal meal. Visitors may bring a picnic or purchase one from the Smithsonian's food carts.
Talks
At noon June 21–24, the Smithsonian Associates will present "Picnic Talks," a series of short lightning talks by a variety of experts, artists and scientists on unexpected subjects related to life, liberty and the pursuit of happiness.
Every day of the festival, from 2 to 3:30 p.m. (and 6:30 to 8 p.m. on June 23), the Smithsonian will present "Common Ground," in which visitors will be randomly paired with a fellow festival guest for a 10-minute unscripted conversation around a shared question. Following the discussion, participants can add their ideas to a collective mural.
On June 23 and 24, from 1 to 4 p.m., the Smithsonian's own comic artist, Evan Keeling, invites visitors to "Be Your Own Superhero" by telling their own stories about life, liberty and the pursuit of happiness.
Workshops
Each day of the festival, visitors can participate in drop-in meditation workshops from 11 to 11:45 a.m. to take a moment out of their days and relax deeply.
June 21, from 11 a.m. to 2 p.m, "Open Studio" invites visitors to explore reproductions of the recently unveiled portraits of President Barack Obama and First Lady Michelle Obama and create their own symbolic self-portrait. Gallery educator and artist Jill Galloway will guide art making and engage participants in a discussion of the portraits through the lens of life, liberty and happiness.
June 22, from 11 a.m. to 2 p.m., visitors can participate in "Strike a Prose," an interactive creative writing workshop. Published author and teaching artist Willona Sloan will guide visitors through a series of writing exercises based on the recently unveiled portraits of the Obamas. Discussion and writing prompts will inspire participants to reflect on and write about their own identities and aspirations.
About the Smithsonian Arts and Industries Building
The second oldest-Smithsonian building on the National Mall, the Arts and Industries Building was home to the nation's first national museum. After being shuttered for more than a decade, it is currently being developed as a laboratory for the exploration of big questions about the future and a vehicle for inspiring Americans about the impact of creativity and innovation on society.
About Halcyon
A nonprofit organization that believes in the power of creativity and compassion to empower humanity, Halcyon provides space, community and access to socially engaged artists and social entrepreneurs working to use their vision and talent to address the world's greatest challenges. Halcyon is based out of the historic Halcyon estate and nearby Halcyon Arts Lab in Georgetown. halcyonhouse.org.
# # #
SI-343-2018