Smithsonian Releases Learning Lab for Everyone To Discover and Use Digital Museum Resources
Website Offers Tools for Creativity, Personalization and Publishing and Will Evolve With Its Users
June 20, 2016
News Release
Addthis Share Tools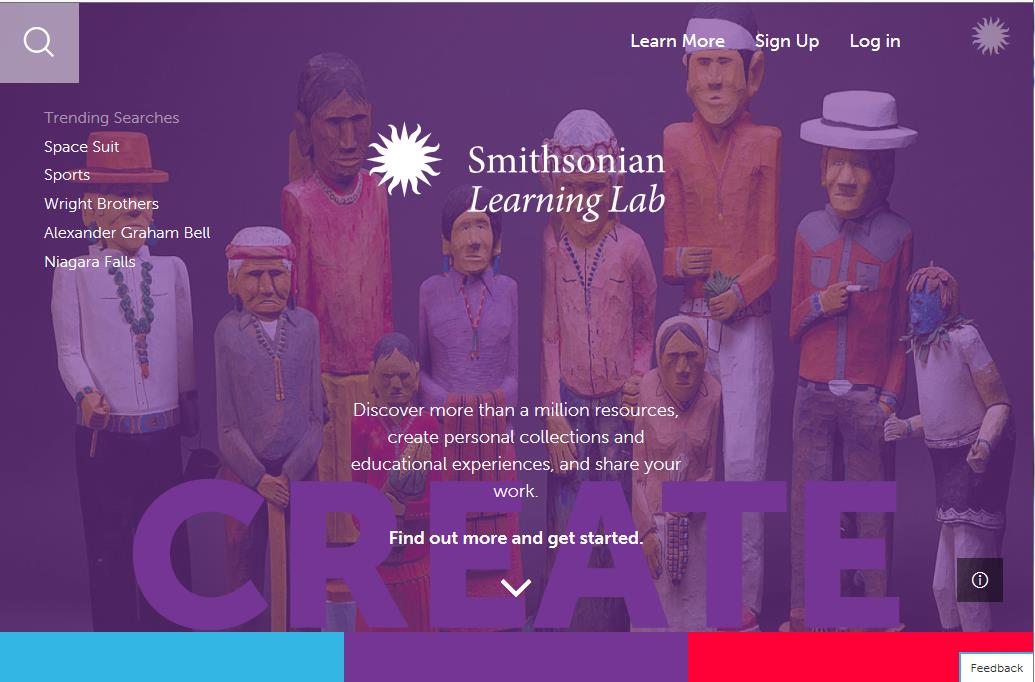 The Smithsonian Center for Learning and Digital Access today debuts the Smithsonian Learning Lab, an engaging online toolkit that enables everyone to find, customize and share digital museum resources with others. The Learning Lab offers free digital access to more than a million diverse resources from across the Smithsonian along with simple-to-use tools to organize, augment and personalize these assets.
Many of the site's features are designed to support the learning needs of teachers and students in K-12 classrooms, higher education and other blended learning environments. As users build and publish the resource collections and activities they have created, the Learning Lab becomes an ever-richer source of knowledge and ideas and a more collaborative community.
"Not everyone can come to the Smithsonian, but they can visit the Learning Lab to inspire and design their own digital learning experiences," said Stephanie Norby, director of the center. "Teachers can use trusted, authentic resources and interactive tools to make lessons more relevant and compelling to students while meeting curriculum standards and fostering higher-order thinking skills."
The launch follows months of beta testing and classroom pilots. Allegheny Intermediate Unit, which serves 42 suburban school districts in Pennsylvania's Allegheny County and Pittsburgh Public Schools, piloted the Learning Lab with social studies teachers.
"The site not only allows teachers to customize resources but also enables students to make them their own," said Tom Gray, an educator from Shaler Middle School in Glenshaw, Pa. "Typically, noisy classrooms are a sign of distracted or misbehaving students, but we had good noise in our classrooms because students were so engaged in the learning activities and discussions fostered by their discoveries in the Learning Lab. Our at-risk students were some of the most engaged, and it truly deepened their understanding of the lesson."
The Learning Lab empowers teachers to develop immersive, deeper learning experiences for every student. They can easily find something of interest across disciplines through a visual exploration of artworks, artifacts and specimens, audio and video recordings, thousands of standards-aligned teaching materials and hundreds of exemplary learning collections created by Smithsonian museum educators and teachers from across the country. The website's tools allow educators to organize the resources they find and those they upload from their own materials or third-party sites into collections. Then, they can customize and augment the resources with additional notes and tags, "hotspot" annotations, quizzes, assignments and other interactive learning activities. Educators and learners can keep their work private or share their creations with a colleague—or everyone—to use or adapt.
"There are so many different ways you can use the Learning Lab in the classroom, and it's invaluable that I can easily adapt learning activities created by other teachers to fit my needs," said Jane Joyce, a teacher from Moon Middle School in Moon, Pa. "It's helped my students and me think more creatively."
To learn more, visit learninglab.si.edu.
About Smithsonian Institution
Since its founding in 1846, the Smithsonian Institution has been committed to inspiring generations through knowledge and discovery. The Smithsonian is the world's largest museum, education and research complex, consisting of 19 museums and galleries, the National Zoological Park and nine research facilities. There are 6,400 Smithsonian employees and 5,400 volunteers. There were 28 million visits to the Smithsonian in 2015. The total number of objects, works of art and specimens at the Smithsonian is estimated at 138 million, including more than 127 million specimens and artifacts at the National Museum of Natural History. www.smithsonian.org
# # #
SI-302-2016