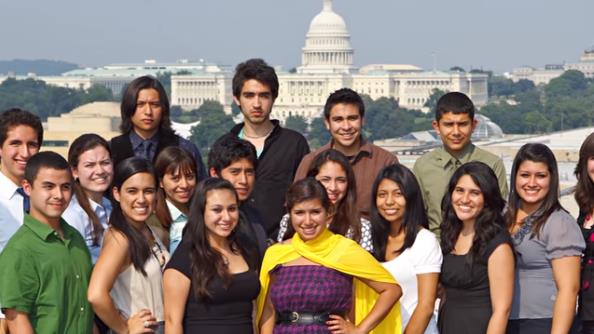 The Smithsonian Latino Center welcomed 22 graduating high school seniors from across the country to participate in its 11th annual Young Ambassadors Program (YAP) this summer. Through the support of Ford Motor Company Fund, YAP offers a life-changing opportunity that empowers young Latinos to become community leaders and lifelong learners.
"Our hope with this program is to provide valuable tools that help Latino students become college-educated, young professionals ready to succeed," said Eduardo Díaz, director of the Smithsonian Latino Center. "Through YAP, they learn to refine important academic and career skills, such as communication, project management and teamwork, while engaging in the process of cultural representation."
The program includes a week in Washington, D.C., for a behind-the-scenes look at the Smithsonian. Students participate in a series of hands-on workshops and discussions and engage in informal conversations about Latino art, culture and science with renowned scholars and leaders, such as filmmaker Alberto Ferreras, author and journalist Gustavo Arellano, photographer Manuel Acevedo, nanotechnology scientist Yajaira Sierra-Sastre and many others.
After their week in Washington, participants complete a five-week internship at a Smithsonian affiliate cultural or science museum in one of 17 cities across the U.S. and Puerto Rico. This experience prepares students for their future college careers and beyond as they gain valuable work experience and learn the importance of giving back to their communities.
"I can't thank the Smithsonian or History Colorado enough for giving me this extraordinary opportunity to explore my own home through a new set of eyes," said Mary Royston, 2015 YAP graduate. "I have learned so much about my community, my state and myself on this monthlong journey, and I wouldn't change it for the world."
The Smithsonian Latino Center and Ford Motor Company Fund have collaborated on YAP for more than nine years, investing in education and careers in the arts, business and technology sectors, among others. During this time, more than 200 students have participated in YAP and each has received a $2,000 stipend to apply toward college-related expenses.
"I believe that all Young Ambassador Program participants will make a difference in the careers they choose, and we are proud to invest in our future generation," said Joe Avila, community outreach manager, Ford Motor Company Fund. "Ford continues to partner with the Smithsonian Latino Center to ensure a bright future for our youth and their communities."
About the Smithsonian Latino Center
The Smithsonian Latino Center ensures that Latino contributions to art, science and the humanities are highlighted, understood and advanced through the development and support of public programs, scholarly research, museum collections and educational opportunities at the Smithsonian and its affiliated organization across the U.S. and internationally. For information on the Young Ambassadors Program, visit www.latino.si.edu.
About Ford Motor Company Fund and Community Services
Ford Motor Company Fund and Community Services works with community and global partners to advance driving safety, education and community life. Ford Motor Company Fund has operated for more than 65 years with ongoing funding from Ford Motor Company. Ford Driving Skills for Life is free, interactive, hands-on safety training. Innovation in education is encouraged through Ford Blue Oval Scholars, Ford Driving Dreams, Ford Next Generation Learning to enhance high school learning with college scholarships and university grants. The Ford Volunteer Corps enlists more than 30,000 Ford employees and retirees each year to work on projects that strengthen their communities in more than 40 countries. For more information, visit www.community.ford.com.
# # #
SI-324-2016