Smithsonian Journeys Announces Egypt Tours for 2011
Four Specially Designed Journeys Feature Exclusive Departures for Families and Women Only
August 11, 2010
News Release
Addthis Share Tools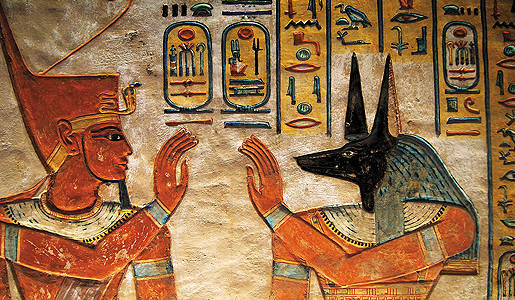 Smithsonian Journeys provides more ways than ever to experience the cultural treasures of Egypt's Old Kingdom in 2011. Travelers can join "Egyptian Odyssey" as a general escorted-highlights tour, an exclusive women's departure or a family adventure. These popular tours feature a unique aspect specific to each audience, yet all visit World Heritage sites in the company of an Egyptologist, who makes travel more meaningful by providing lectures and informal commentary.
"We've taken special note of the different ways our travelers want to experience a destination and have applied those insights to our most popular destinations," said Amy Kotkin, director of Smithsonian Journeys. Yet another way to see Egypt is "Ancient Civilizations of the Red Sea" featuring a four-day cruise of the Red Sea along with land excursions to important sites in Egypt and Jordan. Photographs, video and specific details on itineraries, experts and hotels can be found at www.SmithsonianJourneys.org.
"Egyptian Odyssey" (multiple departures February through May 2011), begins with a visit to Cairo's Museum of Antiquities then on to sites related to the more modern influences of Islam, Judaism and Christianity. Flying to Luxor, travelers will experience an in-depth view of the ancient Pharaohs during visits to the Temples of Karnak and Luxor and the Valley of the Kings. They will also veer off the beaten track to the Valley of the Nobles. Following a four-night cruise up the Nile with stops at Edfu and Kom Ombo, the highlights in Aswan include the Nubia Museum, a traditional felucca ride and the Aswan Dam. Travelers then spend a morning at the World Heritage site of Abu Simbel, the colossal temples of Ramses II and his queen Nefertari. Returning to Cairo, the tour concludes with excursions to enjoy the timeless beauty and mystery of the Pyramids of Giza and Step Pyramid of Sakkara, followed by an engaging panel discussion about modern Egypt. Prices start from $4,995,airfare included, and can be found at www.SmithsonianJourneys.org/Egypt.
The Nov. 23, 2011-Dec. 4, 2011, departure of "Egyptian Odyssey" is exclusively for women. Only women guides and Egyptologist are featured, which enables lively discourse with Egyptian women, something rarely featured on other programs. This departure also embodies women-focused conversation and lecture topics, which allows an often eye-opening perspective on Egypt's contemporary culture and society.
Special family departures of "Egyptian Odyssey" (Dec. 27-Jan. 3, 2011, and July 6-13, 2011) feature a similar itinerary along with family-friendly activities such as a camel ride, special four-wheel drive excursion into the desert, sound and light show at the Pyramids, scavenger hunt in the bazaar and family bike ride along the Nile. Additional staff also provides special enhancements for the children's program (ages 7-12). Prices for the December departure start from $4,145, airfare included, based on a child rate and special offer. Further information can be found at www.SmithsonianJourneys.org/EgyptFamily.
Smithsonian Journeys also features a unique cruise of the Red Sea, "Ancient Civilizations of the Red Sea" (Jan. 23, 2011-Feb. 7, 2011), which combines a five-night cruise with in-depth land tours of Egypt and Jordan. Following tours of important sites in Cairo and Luxor, and an opportunity to take a sunrise hot-air balloon ride over the Nile, travelers embark the 52-passenger Harmony V. The ship calls at ports along the Red Sea, including the World Heritage site of St. Catherine's Monastery on the Sinai Peninsula. On arrival in Jordan, passengers travel by land to other significant sites such as Petra, Mount Nebo, Jerash and Amman. (Prices start from $5,995, airfare included from New York City if booked by Sept. 30, 2010.) A pre-tour extension in Syria features sites along the old Silk Road, including Damascus, Palmyra and Krak des Chevaliers, and a post-tour extension in Alexandria, Egypt, features the new Royal Library of Alexandria. More information can be found at www.SmithsonianJourneys.org/RedSea.
About Smithsonian Journeys
Smithsonian Journeys is the Smithsonian Institution's travel program, with more than 40 years dedicated to life-enriching experiences worldwide. The Smithsonian is known for "Inspiring Generations through Knowledge and Discovery," which is central to Smithsonian Journeys and its more than 150 expert-led international and domestic tours featuring exclusive access and unforgettable experiences. For more information, call toll-free 1 (877) 338-8687 or visit www.SmithsonianJourneys.org.
About Smithsonian Institution
Founded in 1846, the Smithsonian is the world's largest museum and research complex consisting of 19 museums and galleries, the National Zoological Park and nine research facilities. There are 6,000 Smithsonian employees, including approximately 500 scientists, and more than 6,500 volunteers. There were approximately 30 million visits from around the world at the Smithsonian in 2009 with more than 188 million visits to the Smithsonian websites. The total number of objects, works of art and specimens at the Smithsonian is estimated at 137 million.
# # #
SI-327-2010