Smithsonian Folklife Festival Looks at Creativity and Spirituality in the U.S.
May 19, 2023
News Release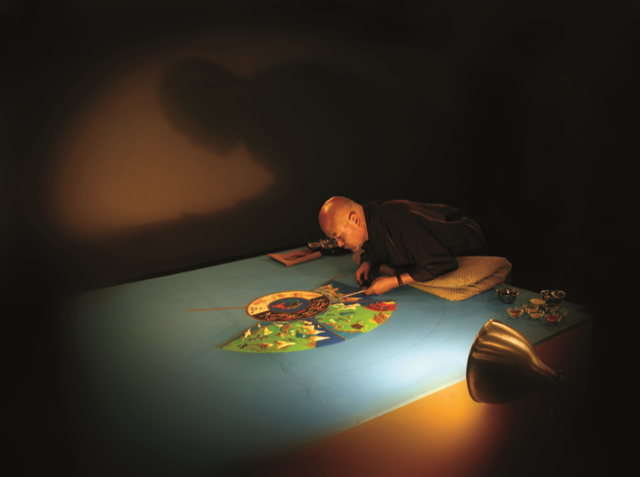 Visitors to the 2023 Smithsonian Folklife Festival will explore creativity and faith and the vibrant ways they contribute to the diverse cultural landscape of the United States in the program "Creative Encounters: Living Religions in the U.S."
The festival will be presented from June 29 to July 4 and July 6 to 9. Most activities will take place on the National Mall between 12th and 14th streets. Daytime programs by musicians, dancers, cooks, artisans, storytellers and others will run from 11 a.m. through 5:30 p.m. On select evenings, special concerts will begin at 6 p.m. Admission to the festival is free and open to the public.
The festival, which also features the program "The Ozarks: Faces and Facets of a Region," is produced by the Smithsonian's Center for Folklife and Cultural Heritage and presented in collaboration with the National Park Service. It is made possible by contributions from individuals and public, nonprofit and corporate entities. Promotional support is provided by the Metropolitan Washington Airports Authority (MWAA) and Washington Metropolitan Area Transit Area Authority (WMATA).
Religion, faith, spirituality and ethical humanism are important sources of creativity and meaning for many Americans. The crafts, food, music, dance and stories they animate can foster deep understanding and engagement. Conversely, they can also fuel social disaffection and disruption. In 2023, the festival will take a deep look at the "creative encounters" that arise from the diversity of religious and ethical humanist knowledge, experience and practice found throughout the United States.
"'Creative Encounters: Living Religions in the U.S.' is very much in keeping with decades of Folklife Festival programs," said Michelle Banks, lead curator. "Just as we have done when presenting states, countries and occupations, we will bring together musicians, cooks, artisans, storytellers and others to share their lives, skills and practices. Perhaps the difference here is that we're also asking people to talk about what grounds them spiritually and ethically. How do their belief systems shape their creative practice, their view of the world and their role in it? What does all that say about our experiences here in the U.S.? Our sense of community, creativity and possibility? Our future hopes and challenges?"
The program is organized around the following themes:
"Makers of Faith" featuring quilting with Sylvia Stephens, Ukrainian Orthodox icons with the Makarenko family, Tibetan Buddhist sand mandalas with NEA National Heritage Fellow Losang Samten and ofrenda community altar building with the Esparza family.
"Sound Religion" featuring sacred steel gospel with Fran "Lady Strings" Grace, Mennonite choral singing, Sikh kirtan music with Raj Academy, spoken-word poetry and traditional Islamic poetry.
"Body and Spirit" featuring Japanese Buddhist Obon dance with Seabrook Buddhist Temple Minyo Dancers, Candomblé traditions with Egbe Omo Alairá and Mestre Jorge Alabê and Kuchipudi dance traditions with Nilimma Devi and Anila Kumari of the Sutradhar Institute of Dance.
"Kitchen Theology" featuring Indigenous foodways and seed saving with Elena Terry of Wild Bearies, New York Ashkenazi Jewish foodways with Gefilteria and festive traditions including a Jewish Sukkah, Persian haft-seen table for Nowruz and Slovak Catholic Christmas feasts.
"Futurisms" featuring intertribal dance with Indigenous Enterprise; gardening, food justice and new ministries with Chris Battle of Battlefield Farm; ancestral healing traditions with Felicia Montes of Botanica del Barrio; conversations on eco-theology and sustainability; storytelling and family history with the International Storytelling Center; and FamilySearch from the Church of Jesus Christ of Latter-day Saints.
"The power of this work lies in its timeliness and its focus on that 'creative encounter,'" said Brad Braxton, president of Chicago Theological Seminary and senior advisor to the program. "With this program, the Smithsonian is setting an abundant welcome table for people to gather, listen and question with respect, and to learn from one another. My hope is that people leave the festival with a sense of joy, curiosity and the willingness to recognize everyday creative encounters in their own lives."
"Creative Encounters: Living Religion in the U.S." is made possible by a grant from Lilly Endowment's Religion and Cultural Institutions Initiative. This national initiative aims to help museums and other cultural institutions foster greater public understanding about religion and present the contributions of people of all faiths and diverse religious communities. The program also received federal support from the Latino Initiatives Pool, administered by the Smithsonian's National Museum of the American Latino, and the Asian Pacific American Initiatives Pool, administered by Smithsonian Asian Pacific American Center. Additional funds were provided by the Smithsonian's National Museum of Asian Art and National Museum of the American Indian. Promotional support is from MWAA and WMATA.
Evening Concerts and Special Events
Featured "Creative Encounters: Living Religions in the U.S." performances include Lady Strings and NEA Heritage Fellowship recipients The Legendary Ingramettes (June 30), Riyaaz Qawwali and The Jones Family (July 2), Carrie Newcomer (July 4), Bobí Céspedes, Bomba Yemayá and a screening of Daughter of the Sea (July 7) and DJ Duane and Gospel Go-Go (July 9).
Concessions and Marketplace
Bark Barbecue Cafe will sell food and drink inspired by the Ozarks and the country's diverse spiritual traditions. Ozark Beer Company will offer a curated collection of craft brews that represents the region's expansive creative spirit. In a nod to the Smithsonian's continued commitment to sustainability, this year visitors will be encouraged to shop the Folklife Festival's online Marketplace, a partnership with the world's largest online fair-trade retailer, NOVICA.
About the Smithsonian Folklife Festival
Inaugurated in 1967, the Smithsonian Folklife Festival honors living cultural traditions and celebrates those who practice and sustain them. Produced annually by the Smithsonian's Center for Folklife and Cultural Heritage and presented in association with the National Park Service, the festival has featured participants from all 50 states, every U.S. territory and more than 100 countries. Follow the festival on Facebook, Twitter, Instagram and YouTube.
# # #
SI-127-2023