Smithsonian Explores Beginnings of Biotechnology
Display Features Recently Acquired Objects from Genentech
October 24, 2013
News Release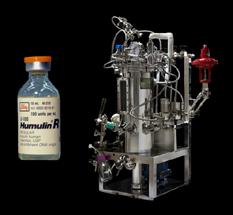 The Smithsonian's National Museum of American History chronicles the story of biotechnology and its impact on society in a new showcase display, "The Birth of Biotech," which opens Oct. 25. The display, located in a first-floor History Highlights Case, will explore the science and industry behind the first major product of the biotech boom—recombinant human insulin. Made by genetically modified bacteria, recombinant human insulin provided a steady source of a vital diabetes drug, which replaced a less certain supply of animal-derived insulin. The display features lab and factory equipment from Genentech initially used to produce recombinant human insulin and historic objects used for managing and treating diabetes from the 1930s to the 1980s.
"The story of biotechnology inspires the type of critical and inventive thinking that has allowed Americans to excel in emerging technologies throughout the nation's history," said John Gray, director of the museum. "The museum helps visitors to understand these past advances as a foundation for future progress."
The museum began collecting biotech history in the 1980s, a collection that now includes more than 130 objects from Genentech.
"At Genentech, we are pleased to have been a spark that helped ignite the biotechnology industry nearly 40 years ago and are honored that the Smithsonian has so thoughtfully curated these artifacts to share with the American people," said Ian Clark, CEO of Genentech. "While our industry is young in comparison to many, biotechnology's innovations are significant. The industry collectively has helped millions of patients through more than 200 new medicines to treat a wide range of diseases including cancer, HIV/AIDS and autoimmune disorders."
The case opening will coincide with a special panel discussion and webcast presented by Genentech Oct. 24 at 7 p.m. EDT. "The DNA Effect" panel will examine the impact of biotechnology on medicine and science, and what can be expected from the industry in the years to come. Panelists include: Arthur D. Levinson, Ph.D., chairman of the board, Genentech and chairman of the board, Apple; Dr. Kimberley L. Blackwell, professor of medicine, Duke Cancer Institute; George M. Church, Ph.D., Robert Winthrop Professor of Genetics, Harvard Medical School; and Dr. Daniel Kraft, executive director, FutureMed. The panel discussion will be webcast live at gene.com/biotech.
In the early 1970s, a research team led by Herbert Boyer of the University of California at San Francisco and Stanley Cohen of Stanford University successfully transferred a gene from one species into another. Known as recombinant DNA, this discovery gave scientists across the world a tool to study life and disease at the molecular level, and has gone on to be a foundation of modern medicine. Boyer then teamed with venture capitalist Robert Swanson to form Genentech.
A small companion website with photos is available at Birth of Biotech.
"The recombinant DNA technique allowed biotechnologists to transform the bacteria E. coli into tiny factories to produce insulin and other therapeutic proteins," said Ann Seeger, deputy chair of the museum's Division of Medicine and Science. "Visitors will see how the emergence of biotechnology highlights an important aspect of the American experience illustrating a relationship between science, industry and enterprise that has often fueled our country's economic growth."
Through its collections, research and public outreach, the National Museum of American History explores the infinite richness and complexity of American history. It helps people understand the past in order to make sense of the present and shape a more humane future. The museum is currently renovating its west exhibition wing, developing galleries on business, democracy and culture. For more information, visit http://americanhistory.si.edu. The museum is located at 14th Street and Constitution Avenue N.W., and is open daily from 10 a.m. to 5:30 p.m. (closed Dec. 25). Admission is free. For Smithsonian information, the public may call (202) 633-1000.
# # #
SI-414-2013
Media Only
Valeska Hilbig
202-633-3129 
202-309-2152