Smithsonian To Convene 2020 Earth Optimism Digital Summit
Live Virtual Event Will Highlight Conservation Solutions To Inspire Action
April 21, 2020
News Release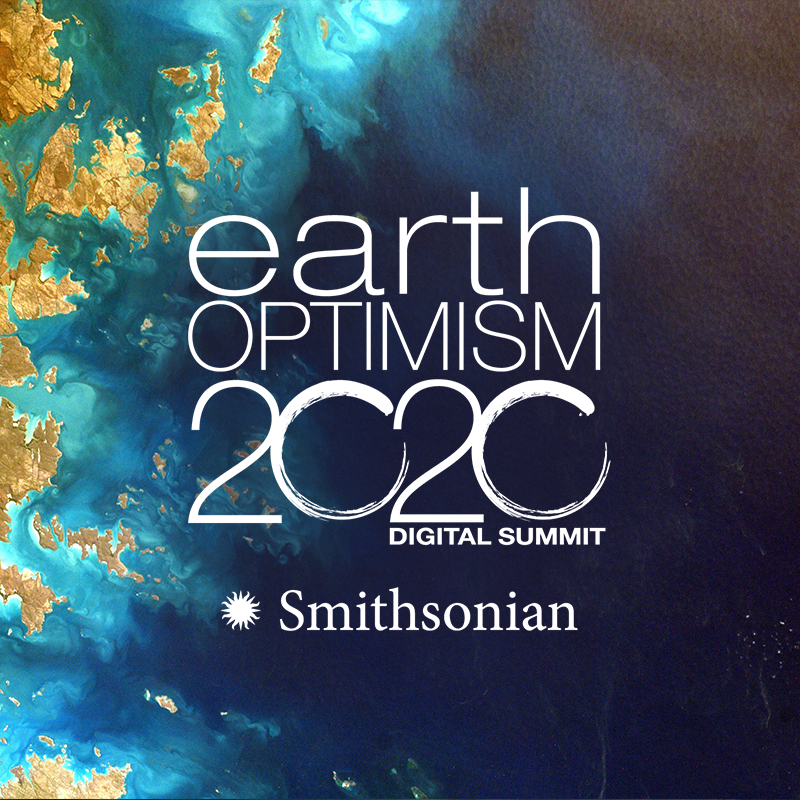 To mark the 50th anniversary of Earth Day, the Smithsonian will host the 2020 Earth Optimism Digital Summit, an online event highlighting what is working to protect the future of the planet. Featuring more than 100 scientists, thought leaders, entrepreneurs, artists and experts, the live summit will stream online April 22–24 at earthoptimism.si.edu. As a public-health precaution, the in-person summit originally scheduled to take place in Washington, D.C., was postponed to a later date.
The virtual event is organized by the Smithsonian Conservation Commons, a network that leverages scientific and cultural expertise from across the Smithsonian to make an impact in conservation worldwide. At this difficult moment for the planet, the Smithsonian is organizing the Earth Optimism Digital Summit to highlight inspiring conservation solutions that are succeeding the face of immense challenges.
"Earth Optimism reminds us that change happens when we focus on what works," said Smithsonian Secretary Lonnie G. Bunch III, who will provide welcoming remarks. "As we celebrate the 50th anniversary of Earth Day, this summit invites us to come together across disciplines and backgrounds to build a stronger, more sustainable future for our planet."
The Earth Optimism Digital Summit will feature live presentations and panel discussions on topics across the conservation spectrum, from climate change, species loss and food sustainability to youth movements and underrepresented communities. Film screenings, online networking and virtual "deep dive" workshops will complement the program.
The full schedule and list of speakers are available on the Earth Optimism website. Viewers can join the conversation on Twitter by following @EarthOptimism and #EarthOptimism.
About Earth Optimism
Earth Optimism celebrates a change in focus from problem to solution in the global dialogue about conservation and sustainability. Connect with Earth Optimism on Facebook, Twitter and YouTube.
About the Smithsonian
The Smithsonian Institution was founded in 1846 with a bequest from British scientist James Smithson (1765–1829) to found at Washington an establishment for "the increase and diffusion of knowledge." It is the world's largest museum, education and research complex, with 19 museums and the National Zoological Park.
The Smithsonian's collections document the nation's history and heritage and represent the world's natural and cultural diversity. The total number of objects, works of art and specimens at the Smithsonian is estimated at nearly 155 million, including more than 146 million scientific specimens and artifacts at the National Museum of Natural History.
# # #
SI-126-2020