Smithsonian Chronicles American History Through 101 Objects
Artifacts Tell Story of Country's History
November 6, 2013
News Release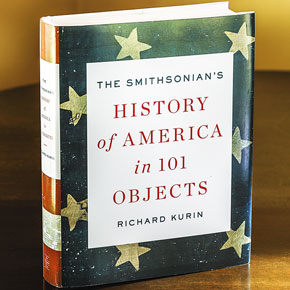 What do Martha the last passenger pigeon, a fragment from Plymouth Rock and Julia Child's kitchen have in common? Each of these objects tells an important part of America's story. These and 98 other objects are part of The Smithsonian's History of America in 101 Objects. Written by Richard Kurin, the Smithsonian's Under Secretary for History, Art, and Culture, and published by The Penguin Press, the 762-page book chronicles America—from prehistoric times to the present—through national treasures found in the Smithsonian's vast collections. 
"Narrowing down the list from millions of objects to 101 was a challenge," said Kurin. "But using objects to tell the story of the nation presented a great opportunity. Rather than learning history by memorizing names and dates, objects have a way of conveying historical times and events in a dramatic but tangible way."
The objects selected for the book are presented in full-color photographs and paired with history, facts and often-surprising narratives that illustrate the events that shaped America.
"The book tries to capture the experience of visiting a treasured object in a museum with enough information about historical context and significance so as to inspire learning and curiosity in everyone," said Kurin.
The Smithsonian houses the world's largest collection of museum objects—137 million items, as well as more than 20 million images and recordings, and tens of millions of archival documents.
The book begins 500 million years ago with fossils and archaeological objects and moves to the American Revolution, the Civil War, the Industrial Revolution and artifacts of the Depression, World War II and Cold War eras. Kurin also chose icons of pop culture (Kermit the Frog and Chuck Berry's guitar), the civil rights movement (the Greensboro lunch counter), and items that now symbolize the digital age and the first years of the new millennium. Objects like George Washington's portrait, the Star-Spangled Banner, Abraham Lincoln's hat, the Wright Brothers' Kitty Hawk Flyer, Dorothy's ruby red slippers from The Wizard of Oz and Neil Armstrong's space suit are well-known icons to Smithsonian visitors. Other objects are unexpected, such as Harriet Tubman's hymnal, Sitting Bull's drawing book, the bakelizer that cooked the first plastic and Jonas Salk's polio vaccine.
The Smithsonian's History of America in 101 Objects is available for sale now at SmithsonianStore.com and wherever books are sold.
Reviews for The Smithsonian's History of America in 101 Objects:
 "Kurin [has] done a masterful job. Even…well-known items have surprising and significant back stories. Unexpected selections…make the book even more engrossing, and…can make for some emotional reading. Kurin does a terrific job of expanding upon the story of each object, whether it's a pair of slave shackles or a damaged door from one of the New York City fire trucks that responded to 9/11. This humanistic approach to storytelling makes for immersive, addictive reading." —Publishers Weekly
"Smithsonian Undersecretary Kurin's tales are abundant, so much so that it seems almost a shame to stop at a mere 101 items….A well-conceived and well-illustrated pleasure to read, combining narrative history and keepsake volume." —Kirkus Reviews
"A guide like this is all the more useful since such a small percentage of the Smithsonian's holdings can ever be on exhibit...Kurin sets each object, beautifully photographed, in its historical and institutional context." —Library Journal
About the Author
Kurin serves at the Smithsonian's Under Secretary for History, Art, and Culture, responsible for many of its museums and educational programs. Trained as a cultural anthropologist, he is a former Fulbright Fellow who earned his doctorate from the University of Chicago and for two decades directed the Smithsonian's Center for Folklife and Cultural Heritage. Kurin is the author of several books, including Hope Diamond: The Legendary History of a Cursed Gem, and his scholarship and museological work has been recognized by the International Council of Museums, UNESCO and Harvard's Peabody Museum. Awarded the Smithsonian Secretary's Gold Medal for Exceptional Service, he serves as the Smithsonian's liaison to the President's Committee on the Arts and Humanities, the White House Historical Association and numerous other boards.
Smithsonian Magazine and Smithsonian Channel
In its November issue, Smithsonian magazine also released a list of "101 Objects that Made America." This list, which differs from Kurin's by 50 objects, also tells the story of America through items selected from the Smithsonian's vast collections. On Nov. 25, Smithsonian Channel will premiere its four-part series, "Seriously Amazing Objects," which features surprising encounters with many of the objects featured in The Smithsonian's History of America in 101 Objects and "101 Objects that Made America."
About Smithsonian
Founded in 1846, the Smithsonian is the world's largest museum and research complex, consisting of 19 museums and galleries, the National Zoological Park, nine research facilities and 20 libraries. There are 6,500 Smithsonian employees and 6,200 volunteers. Approximately 30 million people from around the world visited the Smithsonian in 2012.
About The Penguin Press
The Penguin Press is a member of Penguin Group (USA) LLC, one of the leading U.S. adult and children's trade book publishers, owning a wide range of imprints and trademarks, also including Viking, G. P. Putnam's Sons, Riverhead Books, Dutton, Penguin Books, Berkley Books, Gotham Books, Portfolio, New American Library, Plume, Tarcher, Philomel, Grosset & Dunlap, Puffin, and Frederick Warne, among others. The Penguin Group (www.penguin.com) is a Penguin Random House company.
Note to editors: Kurin will be on a book tour to a dozen cities across the U.S. in November. Additional information is available here.
# # #
SI-448-2013