Smithsonian Celebrates Black History Month
January 31, 2013
News Release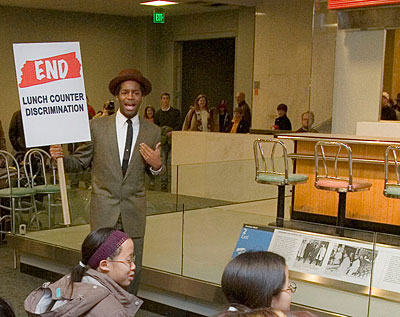 The Smithsonian celebrates Black History Month in February with a series of films, lectures and performances at museums around the Institution. All programs are free unless otherwise indicated.
Feature Event
The Institution will kick off Black History Month at the National Museum of American History Saturday, Feb. 2, from 11 a.m. to 4 p.m., with its "Black History Month Family Day" celebration. The full day of activities is inspired by the exhibition, "Changing America: Emancipation Proclamation, 1863 and the March on Washington, 1963." It includes period musical and dramatic performances, hands-on activities, gallery tours, video interviews by the Hirshhorn's ARTLAB+ teen videographers and many interactive activities to celebrate family and heritage.
Performances
The National Museum of American History will present "Join the Student Sit-Ins" Tuesdays through Saturdays in February at 11:30 a.m. and 1:30 p.m. Visitors will meet a civil rights activist in 1960, just after the historic Greensboro, N.C., student sit-in began. The audience will take part in a training session based on an actual civil rights manual and prepare for its first sit-in. The 15-20-minute interactive performances introduce the story behind the museum's Greensboro lunch counter.
Films
The Freer Gallery of Art will screen When China Met Africa (90 minutes, 2010, English and Mandarin with English subtitles), Wednesday, Feb. 13, at 7 p.m. This documentary, by Marc and Nick Francis, tells the story of China's expanding presence in Africa—a major current political and economic story. It delves behind the headlines to tell the stories of three people intimately involved in this evolving geopolitical relationship: a Chinese agricultural entrepreneur, the manager of a Chinese company under pressure to complete a highway expansion project in Zambia and Zambia's trade minister. The screening is co-sponsored by the National Museum of African Art and the Freer and Sackler galleries.
Tours and Lectures
To commemorate the 150th anniversary of the Emancipation Proclamation, the Smithsonian's National Museum of American History will host a webcast in which scholars and activists join with high school students to reflect on the abolition movement of the 19th century in light of modern-day slavery and human trafficking. Panelists include Kenneth B. Morris Jr., president and founder of the Frederick Douglass Family Foundation and a descendant of both Douglass and Booker T. Washington, and Lois Brown, professor of English at Mount Holyoke College and visiting professor of African American studies at Wesleyan University. The "National Youth Summit on Abolition" webcast will take place Monday, Feb. 11, at 12 p.m. Registration for the webcast is available at http://americanhistory.si.edu/nys/abolition.
The Smithsonian American Art Museum will lead special docent-led tours highlighting artworks currently on view in the American Art galleries and the Luce Center. No single style or approach can define African American art. The artists discussed—from 19th century impressionist painter Henry Ossawa Tanner to the imaginative contemporary craft artist Joyce Scott—represent a complex mingling of influences and experiences, including spirituality, music and folklore. "African American Artists in the Collection" tours will take place Fridays, Feb. 1 and 8; Wednesdays, Feb. 6 and 13; Tuesday, Feb. 19 and 26, at 12:30 p.m. No reservations are required. Participants meet in the F Street lobby.
For Children
The National Air and Space Museum will host "African American Pioneers in Aviation Family Day" Saturday, Feb. 9, from 10 a.m. to 3 p.m. Visitors will meet Tuskegee Airmen and learn about the accomplishments of other black pioneers in aviation. The day includes hands-on activities, story time and demonstrations. These programs are part of the Heritage Family Day series at the museum, sponsored by Northrop Grumman Corp.
The National Air and Space Museum's Steven F. Udvar-Hazy Center will host the same Family Day event Saturday, Feb. 23, from 10 a.m. to 3 p.m. Admission to the museum and Family Day is free; parking is $15.
The Anacostia Community Museum will host the "Annual Mardi Gras Family Day" Saturday, Feb. 16, from 11 a.m. to 4 p.m. The day includes crafts, face painting, balloon art, dancing and a costume contest. Visitors may join an "adornment workshop" and come away with a free keepsake photo in festival finery. For more information, call (202) 633-4875 or email ACMinfo@si.edu.
The National Museum of Natural History will present the KanKouran West African Dance Co. Friday, Feb. 1, at 10:15 a.m. and 11:30 a.m. Visitors can view the "African Voices" exhibition afterward for more about the continent and its cultures. This program is recommended for ages 5 and up. Tickets are required: adults, $8; children, $6; groups of 10 or more people, $5. Call (202) 633-8700 or visit discoverytheater.org.
All programs are subject to change. For more information about the Black History Month programs, visit: www.SmithsonianEducation.org/Heritage or email heritagemonths@si.edu. For general Smithsonian information, the public may call (202) 633-1000.
# # #
SI-35-2013