Smithsonian Celebrates 50th Anniversary of Wilderness Act with "Wilderness Forever" Exhibition
Smithsonian Channel to Air Special "Aerial America" Episode
September 3, 2014
News Release
Addthis Share Tools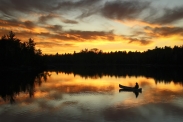 The Wilderness Act, a cornerstone of America's conservation laws, marks its 50th anniversary Sept. 3. The act established the National Wilderness Preservation System that represents America's most wild and pristine federally protected lands. Today, these lands encompass 758 wilderness areas covering more than 109 million acres in 44 states and Puerto Rico. Together, they represent the largest, most highly protected body of wild lands in the country.
To celebrate this important anniversary, the Smithsonian's National Museum of Natural History has opened the photography exhibition, "Wilderness Forever: 50 Years of Protecting America's Wild Places," which runs through summer 2015.
The exhibition is complemented by the premiere of the Smithsonian Channel program, "Aerial America: Wilderness," which airs nationally beginning Sept. 7 at 9 p.m.
"Wilderness Forever" is a juried photography competition that celebrates the majesty, diversity and value of the nation's wilderness areas. More than 5,000 entries were submitted by professional, amateur and youth photographers from across the nation and world. Fifty winning entries will be displayed as awe-inspiring large-format prints. The exhibition also features a fossil skull of Bistahieversor sealeyi, a species of tyrannosaur discovered on wilderness lands; interactive touch-screen maps of wilderness created by Esri; and stories that highlight the importance of protecting wilderness.
Part of the Smithsonian Channel's popular Aerial America series, "Aerial America: Wilderness" provides a bird's eye view of some of America's most spectacular wilderness areas while weaving an inspiring tale about the people, events and places that made the landmark Wilderness Act possible.
The exhibition was developed in conjunction with Nature's Best Photography and Wilderness50, a coalition of government agencies, conservation and community organizations and academic institutions collectively celebrating the anniversary nationwide.
Visitors can learn more about the exhibition and vote for their favorite photos at Smithsonian.com.
# # #
SI-411-2014