Smithsonian Associates Explores the 1920s in New Program Series
March 31, 2017
News Release
Addthis Share Tools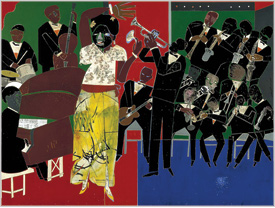 Smithsonian Associates presents a new series of educational programs, "The 1920s: Daring To Be Modern," highlighting the years that followed World War I when the world was fascinated by the new. It was an era marked by creativity, innovation and excitement, fueled by new freedoms and a rush to embrace the modern. How the 1920s shaped and defined that modernity provides the focus of the series that begins April 6 and continues through fall 2017. For more information, the public may call 202-633-3030 or visit www.smithsonianassociates.org.
Programs include:
The Rise of the Airplane: From the Wright Brothers to Lindbergh
Thursday, April 6; 6:45 p.m.
Smithsonian's S. Dillon Ripley Center
Aviation expert Paul Glenshaw explores the scientific, cultural and social contexts for the invention and development of the airplane—how it changed the world, and how the world changed it.
An Egyptian Coil Chain: Studio Arts Workshop
Saturday, April 22; 10 a.m.
Smithsonian's S. Dillon Ripley Center
Egyptian-inspired jewelry was all the rage in the 1920s. Participants learn the secrets to great-looking wire work and hammering and finishing techniques as they create a fluid coil chain any flapper would be proud to wear.
Mixed-Media in the Style of Romare Bearden: Studio Arts Course
Saturday, April 22,  to Saturday, May 6; 10 a.m.
Smithsonian's S. Dillon Ripley Center
Romare Bearden (1911–1988) worked in many mediums from oil and watercolor to various forms of printmaking. After an illustrated lecture on his work, students try their hand creating Bearden-inspired mixed-media compositions.
Sears Houses of Arlington: All-Day Tour
Sunday, April 23; 12:30 p.m.
Tour departs from Smithsonian's S. Dillon Ripley Center
From 1908 to 1940, Sears Roebuck & Co. sold more than 70,000 of its prefabricated Modern Homes kits, affordable dwellings assembled on site that offered Americans of moderate means the chance to own an up-to-date house. Arlington County, which saw a boom in its growth during the 1920s, boasts a significant collection of these kit houses.
Art Deco-Inspired Micro-Macramé Necklace: Studio Arts Course
Monday, April 24 and Tuesday April 25; 6:30 p.m.
Smithsonian's S. Dillon Ripley Center
Participants combine fiber, metal and stone to create a unique necklace design that takes its influence from the geometric jewelry of the 1920s.
Monday, April 24; 6:45 p.m.
Smithsonian's S. Dillon Ripley Center
Jill Ahrold Bailey, producer of "The Big Broadcast" on WAMU 88.5, tunes into an era in which Americans became linked by a new and booming medium, as radio dramatically—and quickly—changed the entertainment, news and political scenes.
Saturday, April 29; 9:30 a.m.
Smithsonian's S. Dillon Ripley Center
He readily comes to mind as the composer of the great orchestral work, Bolero, but Maurice Ravel was one of the great mainstays of musical life in Paris of the 1920s. His work celebrated the greatness of France's musical past as he also drew on modern techniques of musical composition. Explore his musical genius and virtuosity in a lively daylong program highlighted by recordings and live piano performances.
Jerome Kern: Godfather of American Musical Theater
Thursday, May 18; 6:45 p.m.
Smithsonian's S. Dillon Ripley Center
Drawing on personal correspondence, film clips and recordings of masterworks, American music specialist and pianist Robert Wyatt guides participants through highlights in the life of Jerome Kern, the genius who set the cornerstone of American musical theater.
The Women's Vote: The 19th Amendment and Its Aftermath
Wednesday, June 7; 6:45 p.m.
Smithsonian's S. Dillon Ripley Center
Although the ratification of the 19th Amendment Aug. 26, 1920, did not actually change the status of many American women, it did set in motion events that would have a huge impact on the national agenda. Participants learn about the amendment's tumultuous history and how American women of the 1920s "changed the meaning of womanhood."
A Day at Winterthur: All-Day Tour
Wednesday, June 14; 8 a.m.
Tour departs Mayflower Hotel, DeSales St. side, 1127 Connecticut Ave. N.W.
Decorative arts specialist Erin Kuykendall leads an in-depth exploration of the exceptional collection of American decorative arts and antiques on view at the Winterthur Museum, Garden and Library. The tour to the historic du Pont estate includes a special visit to Winterthur's conservation lab for a look at ongoing projects and a chance to stroll through its famed gardens in all their spring beauty.
Doctor's Orders: The Growth of the Public Health Movement
Monday, June 26; 6:45 p.m.
Smithsonian's S. Dillon Ripley Center
The 1920s stimulated many new discoveries and initiatives in medicine, as well as a growing public confidence that the field could conquer and control modern problems. Alexandra Lord of the Smithsonian's National Museum of American History explores the medical and public-health advances of the decade and places them in a cultural context.
Jazzy Nights in Shaw: A Stroll Through 1920s Washington
Tours offered Thursday, July 6, Wednesday, July 12, and Thursday, July 20; 6 p.m.
Participants spend a summer evening with local historian Garrett Peck and step into the heyday of Washington's "Black Broadway," when jazz filled the clubs and theaters of U Street and the nightlife scene rivaled Harlem's.
# # #
SI-182-2017