The Smithsonian and Synchrotron Soleil Join to Analyze Antiquities, Cultural Heritage Materials
June 11, 2010
News Release
Addthis Share Tools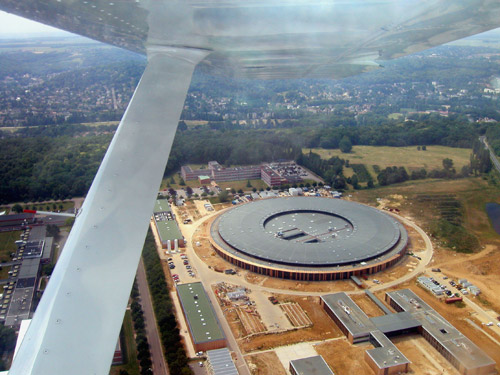 The Smithsonian Institution and Synchrotron Soleil of France announced a new partnership between the organizations to use the power of the third-generation synchrotron to study and preserve priceless collections at the Smithsonian. This is the first partnership between the Institut Photonique d'Analyse Non-destructive Européen des Matériaux Anciens platform at Soleil and the Smithsonian's Museum Conservation Institute.
A synchrotron is a particle accelerator that produces brilliant beams of light (10,000 times brighter than sunlight) that can be used for scientific analysis. Soleil is an acronym for "source optimisée de lumière d'énergie intermédiaire du lure." The Smithsonian's Museum Conservation Institute is a scientific research unit of the Smithsonian that conducts research on collections and their preservation.
The announcement was made during the signing of a memorandum of understanding June 10 by the French Minister for Higher Education and Research Valérie Pécresse and the Smithsonian's Under Secretary for Science Eva J. Pell. The signing took place at the Ministry of Higher Education and Research in Paris.
The joint programs will include exchange of staff and fellows, collaborative research using the synchrotron platforms, development of advanced methods, and joint seminars, workshops and meetings. The first project, with research scheduled to begin in June, will examine the fading of Prussian blue, the first modern pigment accidentally discovered at the beginning of the 18th century. A favorite of 19th-century painters, artisans and manufacturers because it was both stable and cheap, the dye was ubiquitous in the period's wallpapers, textiles, stamps, cosmetics and early photographs. It is the blue in architectural blueprints. However, the pigment is subject to fading under special conditions because of its unique electronic and magnetic properties. Study at the synchrotron will examine the fading of Prussian blue at the nano scale.
"We welcome Soleil into this great partnership, and we look forward to working with their highly qualified staff as we intensively study the material characteristics of cultural heritage," said Robert J. Koestler, director of the Smithsonian's Museum Conservation Institute whose staff will be conducting experiments at Soleil this summer.
"The convergence of disciplines is a key challenge and this common action of a large-scale facility and a most prominent cultural and research institution is a concrete and very positive outcome" said Michel van der Rest, CEO of Synchrotron Soleil.
For more information about Synchrotron Soleil visit www.synchrotron-soleil.fr.
# # #
SI-243-2010