The Smithsonian and The Great Courses Partner for New Series of Lectures Spanning History, Science, Travel and the Arts
10-Year Deal Combines the Content and Expertise of the Smithsonian with the Leading Creator of Educational Digital Media
May 5, 2014
News Release
Addthis Share Tools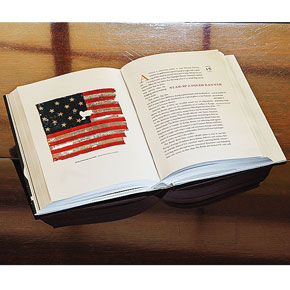 The Smithsonian and The Great Courses, a leading developer and marketer of premium-quality media for lifelong learning, announced a 10-year licensing agreement to produce new courses devoted to history, science, culture, travel, music and the arts.
"The Great Courses has a proven track record of creating engaging, immersive learning experiences," said Carol LeBlanc, senior vice president for consumer and education products at Smithsonian Enterprises. "We are excited to help develop accessible and high-quality courses, based on the Smithsonian museums and collections, for a broad array of lifelong learners over the next decade."
"We strive to bring our customers unique and compelling lectures from the world's leading minds and scholars," said Paul Suijk, president of The Great Courses. "Partnering with an institution like the Smithsonian, renowned for inspiring generations through learning and discovery, is a natural fit. We look forward to virtually exploring the Smithsonian's treasured hallways under the expert guidance of its directors and curators as we create a must-have library for history, science and art enthusiasts."
The first of the 12 courses scheduled for release beginning this fall include:
Experiencing America: A Smithsonian Tour through American History 
Based on Richard Kurin's popular book, The Smithsonian's History of America in 101 Objects, this course will reveal the stories behind iconic American artifacts, including President Abraham Lincoln's hat, Dorothy's ruby slippers, George Washington's sword, Harriet Tubman's hymnal and even the Space Shuttle Discovery. Eye-opening and thought-provoking lectures will share surprising takes on both familiar objects and little-known artifacts of profound importance to American history. Instructor: Richard Kurin, Under Secretary for History, Art, and Culture, Smithsonian
The Industrial Revolution
This fascinating and comprehensive course examines how a series of brilliant inventors and new scientific discoveries, as well as unprecedented social and industrial changes, permanently altered the fate of mankind. Taught by award-winning professor of American history Patrick N. Allitt and incorporating the Smithsonian's unrivalled collection of industrial era artifacts, participants are sure to enjoy this riveting saga that explores the unfolding of the Industrial Revolution and its tremendous impact on world history. Instructor: Patrick N. Allitt, Professor of American History, Emory University
A Visual Guide to the Universe
Participants will explore the universe like never before in this visually expansive course that examines the best images ever produced by instruments such as the Hubble Telescope, the Kepler Space Telescope and many more. Taught by award-winning professor of physics and astronomy David M. Meyer and vetted by curators at the Smithsonian's National Air and Space Museum, this course delivers both a thorough understanding of all the fascinating and exotic objects the universe contains, as well as a spectacular visual tour showcasing the finest astronomical images ever created. Instructor: David M. Meyer, Professor of Physics and Astronomy, Northwestern University
The Great Tours and Smithsonian Journeys: Essential Sites of Rome, Venice and Tuscany
Italy contains an embarrassment of riches and sites of historical importance for any cultural traveler. This course will introduce the essential sites, historical context and viewing tips for understanding the riches of ancient Rome, the architectural wonders of Venice, the medieval and renaissance splendor of Tuscany and much more. The course will also feature footage and information from the Smithsonian Journeys tours to the volcanic ruins of Pompeii and the medieval town of San Gimignano. Instructor: Kenneth R. Bartlett, Professor of History and Renaissance Studies, University of Toronto
About The Great Courses
The Great Courses is the nation's leading developer and marketer of premium-quality media for lifelong learning and personal enrichment. Delivered in engaging, expertly produced video and audio (digital streaming, downloads, DVDs and CDs), these carefully crafted courses provide access to a world of knowledge from the most accomplished professors and experts. The content-rich, proprietary library spans nearly 500 courses with close to 7,000 hours and 12,000 lectures designed to expand horizons, deepen understanding and foster epiphanies in the arts, science, literature, self-improvement, history, music, philosophy, theology, economics, mathematics, business, professional advancement, personal growth and high school curriculum. Creating unique learning experiences since 1990, The Great Courses is the premier brand of The Teaching Company of Chantilly, Va., which is owned by Los Angeles-based Brentwood Associates. More information can be found at www.thegreatcourses.com.
About the Smithsonian Institution
Founded in 1846, the Smithsonian is the world's largest museum and research complex, consisting of 19 museums and galleries, the National Zoological Park and nine research facilities. There are 6,000 Smithsonian employees and 6,500 volunteers. Approximately 30 million people from around the world visited the Smithsonian in 2013. The total number of objects, works of art and specimens at the Smithsonian is estimated at 137 million. Website: www.si.edu.
# # # 
SI-210-2014