Smithsonian American Art Museum Exhibition of Modern and Contemporary Latino Art Begins National Tour
April 2, 2014
News Release
Addthis Share Tools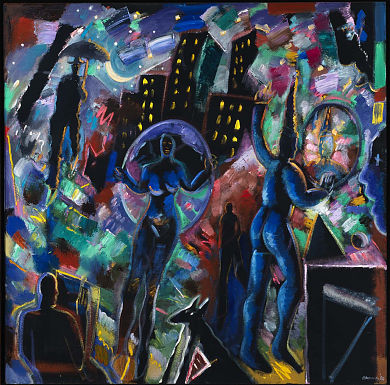 "Our America: The Latino Presence in American Art," a major collection of modern and contemporary Latino art from the Smithsonian American Art Museum, begins a multicity national tour today when it opens in Miami at The Patricia and Phillip Frost Art Museum at Florida International University. The exhibition presents the rich and varied contributions of Latino artists in the United States since the mid-20th century, when the concept of a collective Latino identity began to emerge. The exhibition is drawn entirely from the Smithsonian American Art Museum's pioneering collection of Latino art. 
"Our America" presents works in all media by 72 leading modern and contemporary artists. Of the 92 artworks featured in the exhibition, 63 were acquired by the museum since 2011, representing its deep and continuing commitment to collecting Latino art. It explores how Latino artists shaped the artistic movements of their day and recalibrated key themes in American art and culture. The exhibition is organized by E. Carmen Ramos, curator of Latino art at the Smithsonian American Art Museum. 
The exhibition tour begins at The Patricia and Phillip Frost Art Museum, where "Our America" is on view from April 2 through June 22. It then travels to the Crocker Art Museum in Sacramento, Calif. (Sept. 21, 2014 – Jan. 11, 2015); the Utah Museum of Fine Arts in Salt Lake City (Feb. 6, 2015 – May 17, 2015); the Arkansas Art Center in Little Rock, Ark. (Oct. 16, 2015 – Jan. 17, 2016); the Delaware Art Museum in Wilmington, Del. (March 5, 2016 – May 29, 2016); the Hunter Museum of American Art in Chattanooga, Tenn. (Feb. 17, 2017 – June 4, 2017); and the Sioux City Art Center in Sioux City, Iowa (July 8, 2017 – Oct. 15, 2017). Additional venues will be  available online at americanart.si.edu/ouramerica.
"The exhibition 'Our America' is the culmination of a major collecting initiative, still underway at the Smithsonian American Art Museum, to build a significant collection of Latino art in the nation's capital," said Elizabeth Broun, The Margaret and Terry Stent Director of the Smithsonian American Art Museum. "It is particularly exciting to share with the American public so many artworks newly acquired for the museum's permanent collection."
The exhibition includes works by artists who participated in all the various artistic styles and movements, including abstract expressionism; activist, conceptual and performance art; and classic American genres such as landscape, portraiture and scenes of everyday life. Latino artists across the United States were galvanized by the civil rights movement of the 1960s and 1970s. They created new images of their communities and examined bicultural experiences. Many critically probed American history and popular culture, revealing the possibilities and tensions of expansionism, migration and settlement. Other Latino artists in the exhibition devoted themselves to experimentation, pushing the limits of their chosen medium. "Our America" presents a picture of an evolving national culture that challenges expectations of what is meant by "American" and "Latino."
"The relationship between Latino art and the larger world of American art in the post-War period is not simple or clear cut," said Ramos. "Some artists, influenced by the activism of Latino civil rights movements, turned away from pure formalist discourse to tackle the pressing issues of the day. Others artists wholeheartedly embraced abstraction. An even larger group inhabited multiple worlds, infusing avant-garde modes with politically and culturally engaged themes."
Artists featured in the exhibition reflect the rich diversity of Latino communities in the United States. "Our America" showcases artists of Mexican, Puerto Rican, Cuban and Dominican descent, as well as other Latin American groups with deep roots in the United States. By presenting works by artists of different generations and regions, the exhibition reveals recurring themes among artists working across the country.
Artists featured in the exhibition are ADÁL, Manuel Acevedo, Elia Alba, Olga Albizu, Carlos Almaraz, Jesse Amado, Asco (Harry Gamboa Jr., Gronk, Willie Herrón and Patssi Valdez), Luis Cruz Azaceta, Myrna Báez, Guillermo Bejarano, Charles "Chaz" Bojórquez, María Brito, Margarita Cabrera, María Magdalena Campos-Pons, Melesio "Mel" Casas, Leonard Castellanos, Oscar R. Castillo, José Cervantes, Enrique Chagoya, Roberto Chavez, Carlos A. Cortéz, Marcos Dimas, Ricardo Favela, Christina Fernandez, Teresita Fernández, iliana emilia garcía, Rupert García, Scherezade García, Carmen Lomas Garza, Ignacio Gomez, Ken Gonzales-Day, Hector González,
Luis C. "Louie the Foot" González, Muriel Hasbun, Ester Hernandez, Judithe Hernández, Carmen Herrera, Carlos Irizarry, Luis Jiménez, Miguel Luciano, Emanuel Martinez, María Martínez-Cañas, Antonio Martorell, Ana Mendieta, Amalia Mesa-Bains, Franco Mondini-Ruiz, Delilah Montoya, Malaquias Montoya, Abelardo Morell, Jesús Moroles, Raphael Montañez Ortiz, Pepón Osorio, Amado M. Peña Jr., Chuck Ramirez, Paul Henry Ramirez, Sophie Rivera, Arturo Rodríguez, Freddy Rodríguez, Joseph Rodríguez, Frank Romero, Emilio Sánchez, Juan Sánchez, Jorge Soto Sánchez, Rafael Soriano, Ruben Trejo, Jesse Treviño, John M. Valadez, Alberto Valdés and Xavier Viramontes.
Connecting Online
The museum created a bilingual mobile website to accompany the exhibition that includes commentaries about artworks in the exhibition and images of all the featured artworks. Video shorts and an exhibition trailer are available on the museum's website and on YouTube at youtube.com/americanartmuseum. The public also may follow the museum for exhibition tour updates on Twitter by following @americanart and using #OurAmerica or by subscribing to the museum's email list at americanart.si.edu/visit/enews.
Publication
The exhibition catalog includes essays by Tomás Ybarra-Frausto, independent scholar, and Ramos. The catalog, copublished by the museum and D Giles Limited, is available for $65 ($40 softcover) through the museum's online store and at museums hosting the tour.
Credit
"Our America: The Latino Presence in American Art" is organized by the Smithsonian American Art Museum. Generous support for the exhibition has been provided by Altria Group, the Honorable Aida M. Alvarez, Judah Best, The James F. Dicke Family Endowment, Sheila Duignan and Mike Wilkins, Tania and Tom Evans, Friends of the National Museum of the American Latino, The Michael A. and the Honorable Marilyn Logsdon Mennello Endowment, Henry R. Muñoz III, Wells Fargo and Zions Bank. Additional significant support was provided by The Latino Initiatives Pool, administered by the Smithsonian Latino Center. Support for "Treasures to Go," the museum's traveling exhibition program, comes from The C.F. Foundation, Atlanta.
About the Smithsonian American Art Museum
The Smithsonian American Art Museum celebrates the vision and creativity of Americans with artworks in all media spanning more than three centuries. Its National Historic Landmark building is located at Eighth and F streets N.W., above the Gallery Place/Chinatown Metrorail station. Museum hours are 11:30 a.m. to 7 p.m. daily (closed Dec. 25). Admission is free. Follow the museum on Twitter, YouTube, Tumblr, Instagram, Facebook, Flickr, Pinterest, iTunes U and ArtBabble. Museum information (recorded): (202) 633-7970. Smithsonian Information: (202) 633-1000. Website: americanart.si.edu.
# # #
Note to Editors: Selected high-resolution images for publicity only may be downloaded from americanart.si.edu/pr. Email americanartpressoffice@si.edu for the password.
SI-148-2014