Prints by Major Contemporary American Artists Featured in New Exhibition at the Smithsonian American Art Museum
October 26, 2011
News Release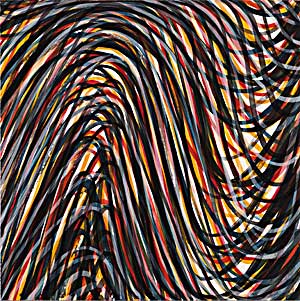 The exhibition "Multiplicity" features contemporary prints from the permanent collection of the Smithsonian American Art Museum that embrace many styles, techniques and approaches with which artists have worked over the past several decades.
"Multiplicity" is on view at the Smithsonian American Art Museum from Nov. 11 through March 11, 2012. The exhibition is organized by Joann Moser, senior curator at the Smithsonian American Art Museum, and will travel following its presentation in Washington, D.C.
"It is a special treat to be able to put on public view so many large-scale prints by some of the most influential contemporary artists working today," said Elizabeth Broun, The Margaret and Terry Stent Director of the Smithsonian American Art Museum.
"Multiplicity implies abundance and variation," said Moser. "These prints are the result of collaboration between the artist and professional printers who help realize the artist's vision. This interaction alters the stereotype of the artist working alone in the studio and celebrates the power of collaboration."
The exhibition features 83 works, created between 1972 and 2009, by contemporary artists such as John Baldessari, John Cage, Vija Celmins, Chuck Close, R. Luke DuBois, David Hockney, Sol LeWitt, Brice Marden, Julie Mehretu, Martin Puryear, Tim Rollins and K.O.S., Susan Rothenberg, Kiki Smith and Kara Walker. Nearly half of the prints included in the exhibition are recent acquisitions, and 38 were acquired by the museum in the past five years. The exhibition is the first time the museum has shown the majority of these artworks.
The concept of making multiple images from the same matrix has been integral to printmaking ever since the earliest prints were pulled from woodblocks and metal plates in the 15th century. Each impression is considered to be an original work of art. "Multiplicity" brings together a selection of prints by artists for whom the concept of multiplicity in its many forms provides a touchstone for their artistic expression. Many of the artists in the exhibition have expanded the idea of multiplicity beyond editions of identical impressions by creating series, sequences and images that comprise numerous parts. They explore repetition, pairing and variations on a theme as artistic strategies. Implicit in their exploration of multiplicity is a challenge to rarity and uniqueness as determinants of value. All of the prints in the exhibition are part of an edition, and each impression is considered to be an original work of art.
A slideshow of all artworks included in the exhibition is available on the museum's website.
Public Programs
The museum is presenting several free public programs to complement the exhibition, including a discussion with artists Linn Meyers, Michael Platt, Lou Stovall and Andrea Way Wednesday, Nov. 16, at 6 p.m. in the museum's McEvoy Auditorium; gallery talks by Moser Thursday, Dec. 1, at 6 p.m. and Wednesday, Feb. 8, 2012, at 6 p.m.; and a "Multi-Prints Family Day" Saturday, Jan. 21, 2012, from 11:30 a.m. to 3 p.m. The museum's monthly jazz series, "Take Five!" in the Kogod Courtyard, will feature printmaking demonstrations by artists from George Mason University Thursday, Jan. 19, 2012, from 5 to 7 p.m. and Thursday, Feb. 16, 2012, from 5 to 7 p.m.
Two ticketed programs also will be offered in conjunction with "Multiplicity." A performance of contemporary classical music that explores the concept of repetition by the 21st Century Consort is Saturday, Feb. 11, 2012, at 5 p.m. in the museum's McEvoy Auditorium. A seminar "Understanding and Collecting the Fine Print" with artist Helen Frederick is Saturday, March 10, 2012 in the museum's McEvoy Auditorium. Tickets to the concert ($20) and the seminar ($55) are available through Smithsonian Associates at residentassociates.org or (202) 633-3030. Registration for the seminar begins Jan. 1, 2012. Detailed program descriptions are available online at americanart.si.edu.
About the Smithsonian American Art Museum
The Smithsonian American Art Museum celebrates the vision and creativity of Americans with artworks in all media spanning more than three centuries. Its National Historic Landmark building is located at Eighth and F streets N.W., above the Gallery Place/Chinatown Metrorail station. Museum hours are 11:30 a.m. to 7 p.m. daily. Admission is free. Follow the museum on Twitter, Facebook, Flickr, ArtBabble, iTunes and YouTube. Museum information (recorded): (202) 633-7970. Smithsonian Information: (202) 633-1000; (202) 633-5285 (TTY). Website: americanart.si.edu.
# # #
Note to editors: Selected high-resolution images for publicity only may be downloaded from americanart.si.edu/pr. Email AmericanArtInfo@si.edu for the password.
SI-468-2011