Portrait of Renowned Activist and Chef Leah Chase by Gustave Blache III On View at the National Portrait Gallery
June 3, 2019
News Release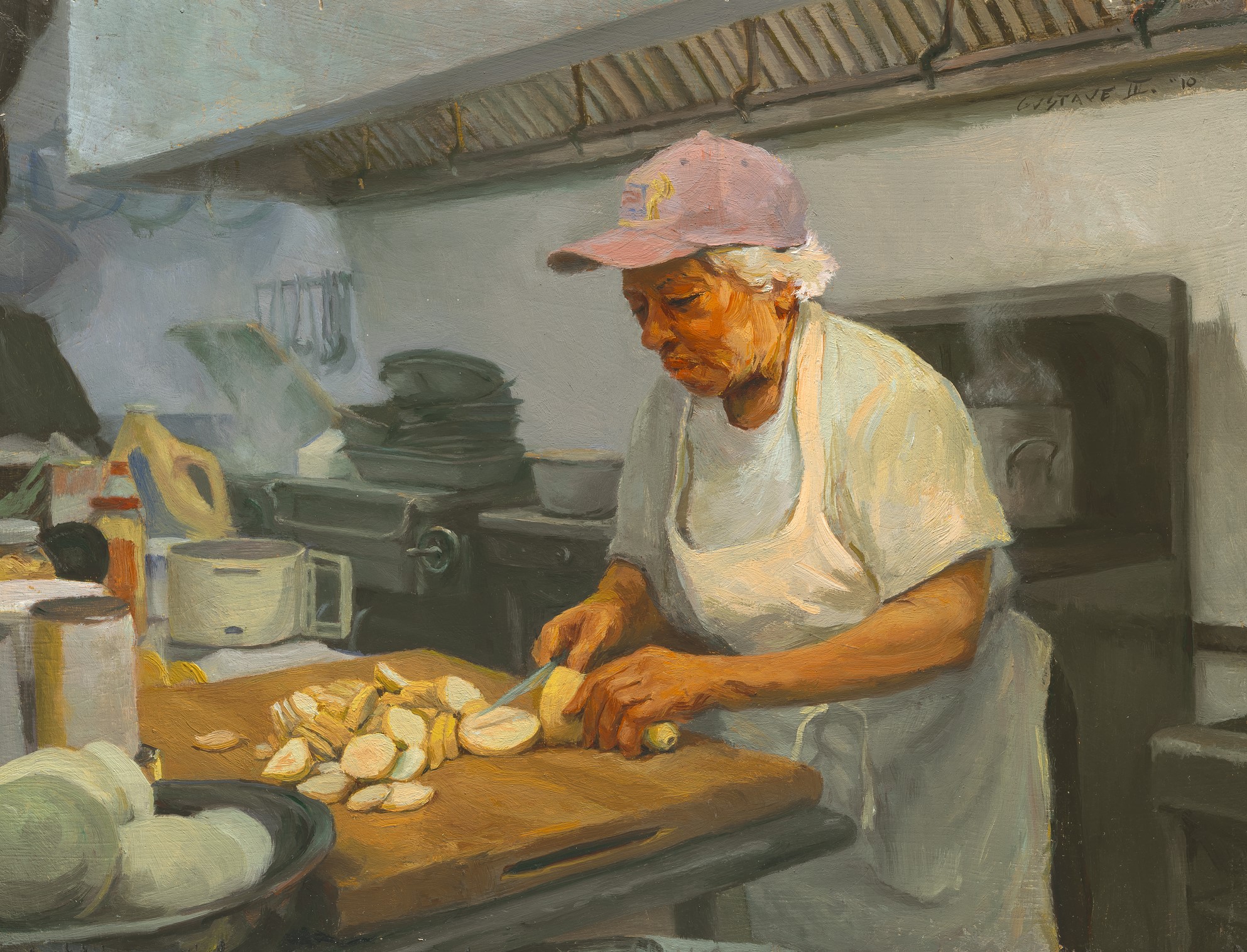 The Smithsonian's National Portrait Gallery recognizes the life and legacy of Leah Chase with a painting by Gustave Blache III. Her portrait will be installed in the museum's In Memoriam space on the first floor. Media are invited to view and photograph the portrait Tuesday, June 4, during a special open house from 10 to 11 a.m. "Cutting Squash (Leah Chase)" (2010) will remain on view until further notice.
Chase (1923–2019), dubbed the "Queen of Creole Cuisine," was a restauranteur and world-renowned chef who championed civil rights. In 1945, after marrying jazz musician Edgar "Dooky" Chase Jr., she joined the family restaurant business in New Orleans. Dooky Chase's Restaurant became a gathering spot for Martin Luther King Jr. and other prominent civil rights activists who held strategy sessions there in the 1960s.
"In my dining room, we changed the course of America over a bowl of gumbo and some fried chicken," Chase recalled. In addition to her belief in food's ability to bring people together, she was a pious Catholic, feeling that "everything [God] throws at you is testing your strength." Later in her life, she advocated for the arts, an endeavor she considered an important part of her legacy.
The artist Blache, who often depicts people at work, documented Chase in the kitchen for a series of portraits. The oil-on-panel likeness was created in 2010 and was later gifted to the Portrait Gallery by the artist. Chase's portrait can also be photographed or filmed in the museum. For access and an image of the work, contact Concetta Duncan at duncanc@si.edu.
National Portrait Gallery
The Smithsonian's National Portrait Gallery tells the multifaceted story of the United States through the individuals who have shaped American culture. Spanning the visual arts, performing arts and new media, the Portrait Gallery portrays poets and presidents, visionaries and villains, actors and activists whose lives tell the American story.
The National Portrait Gallery is part of the Donald W. Reynolds Center for American Art and Portraiture at Eighth and F streets N.W., Washington, D.C. Smithsonian Information: (202) 633-1000. Connect with the museum at npg.si.edu, Facebook, Instagram, Twitterconc and YouTube.
# # #
SI-235-2019