Play Smithsonian Magazine's Great American History Puzzle and Win a "Secrets of the Smithsonian" Tour
October 16, 2012
News Release
Addthis Share Tools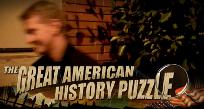 Like puzzles? Love American history? Then play Smithsonian magazine's "Great American History Puzzle." This month-long contest was conceived by master puzzler and Jeopardy! champion Ken Jennings. The first person to follow a series of clues, avoid the red herrings and uncover all the contest's secrets will win the grand prize: a free trip to Washington, D.C., and a "Secrets of the Smithsonian" tour that will take the winner behind-the-scenes of the world's largest museum and research complex.
The contest consists of a series of 11 puzzles released over the course of October. The final clue comes out Oct. 22 at 2 p.m. All of the previous puzzles are online, so there is still time to play and complete the challenge. To complete the first puzzle, players will need a copy of the October issue of the magazine, available on newsstands now or online. For more information about the contest, visit the "Frequently Asked Questions" section of the website; the contest's official rules are also available online.
About Smithsonian Magazine
Smithsonian magazine is a monthly magazine that chronicles the arts, history, sciences and popular culture of the times.
# # #
SI-462-2-12