Pierre Huyghe Is the 2010 Winner of the Smithsonian American Art Museum's Contemporary Artist Award
December 17, 2010
News Release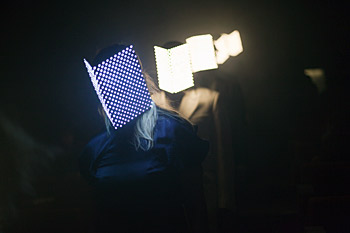 The Smithsonian American Art Museum announced today that Pierre Huyghe is the 2010 winner of the museum's contemporary artist award. Huyghe was selected by an independent panel of jurors for his "pioneering vision and tireless ambition to make art that defies expectations and extends conventional practices into new territory."
Huyghe is the ninth winner of the $25,000 award, which recognizes an artist younger than 50 who has produced a significant body of work and consistently demonstrates exceptional creativity. It is intended to encourage the artist's future development and experimentation.  
"Pierre Huyghe represents the commitment to creative innovation that this award seeks to recognize," said Elizabeth Broun, The Margaret and Terry Stent Director of the Smithsonian American Art Museum. "Huyghe's pioneering use of appropriated imagery and filmic reenactment reveal the power of mass media to shape our memory of personal and historical events."
The winning artist is selected by a panel of distinguished jurors with an extensive knowledge of contemporary art. The five jurors who selected the 2010 winner are Nicholas Baume, director and chief curator of the Public Art Fund in New York City; Margo Crutchfield, senior curator at the Museum of Contemporary Art Cleveland; Anne Ellegood, senior curator at the UCLA Hammer Museum in Los Angeles; Tim Rollins, artist; and Howard Singerman, associate professor of contemporary art and theory at the University of Virginia.
The jurors wrote in their decision, "Huyghe looks beyond national boundaries to create an art that speaks to universal themes and experiences. His impressive body of work includes landmark video installations that have changed the course of contemporary film and video. He has continued to build upon this foundation, devising inventive projects that range from incisive social commentary to poetic moments of pure beauty. Simply put, Huyghe is one the most influential artists of his generation. We are as excited about what he will create next as with what he has already accomplished."
Huyghe employs diverse media to explore the boundary between fiction and reality in contemporary society. As an early innovator in multichannel video installation, Huyghe has had a profound impact on the production and presentation of film and video in contemporary art. During the last decade, his projects often have involved elaborately staged public performances that encourage direct audience participation. In each of these projects Huyghe weaves a vast array of cultural practices—architecture, film, theater, puppetry, music and literature—to create a multilayered experience. Huyghe is represented by the Marian Goodman Gallery in New York City and Paris.
"I am thrilled that the jury has selected such an innovative and influential individual to receive the museum's artist award," said Joanna Marsh, The James Dicke Curator of Contemporary Art at the Smithsonian American Art Museum."Pierre Huyghe's work expands traditional expectations of what art can be."
Huyghe was born in 1962 in Paris. He graduated from the Ecole Nationale Supérieure des Arts Décoratifs in 1985. His work has been shown broadly in the United States and Europe, with solo exhibitions at the Tate Modern in London (2006), the Carpenter Center at Harvard University (2004), the Solomon R. Guggenheim Museum in New York City (2003), the Dia Center for the Arts in New York City (2003), the Museum of Contemporary Art, Chicago (2000) and the Centre Georges Pompidou in Paris (2000). He also has participated in a number of international art shows, including Documenta 11 (2002), the International İstanbul Biennial(2001) and the Carnegie International (1999) at the Carnegie Museum of Art in Pittsburgh. In 2005, the Public Art Fund commissioned Huyghe to create a live event and film shoot at the Wollman Ice Rink in New York City's Central Park, which followed a trip to Antarctica that Huyghe made with a group of like-minded artists. The journey and event culminated in "A Journey That Wasn't" (2006), a video installation first shown in the 2006 biennial exhibition at the Whitney Museum of American Art. A solo exhibition of Huyghe's work opens in New York City at the Marian Goodman Gallery Jan. 28, 2011, and runs through March 12, 2011.
Among the awards he has received are the Hugo Boss Prize from the Guggenheim Museum (2002), a special award from the Venice Biennale jury (2001), where he represented France, and a DAAD artist-in-residence grant (1999-2000) in Berlin. Huyghe lives and works in New York City and Paris.
In addition to Huyghe, the 2010 nominees were Janine Antoni, Sanford Biggers, Andrea Bowers, Mark Bradford, Paul Chan, Leonardo Drew, Wade Guyton, Sharon Lockhart, Josiah McElheny, Ugo Rondinone, Paul Sietsema, Frances Stark, Sarah Sze and Mickalene Thomas. Marsh coordinated the jury panel selection and the nomination and jurying process for the award.
In 2001, the Smithsonian American Art Museum established a contemporary art award that is now presented biennially. Artists must be nominated by a juror to be considered for the award; there is no application. Previous winners were Mark Dion (2008); Jessica Stockholder (2007); Matthew Coolidge, director of the Center for Land Use Interpretation (2006); Andrea Zittel (2005); Kara Walker (2004); Rirkrit Tiravanija (2003); Liz Larner (2002); and Jorge Pardo (2001). From 2001 to 2008, the award, known as the Lucelia Artist Award, was presented annually. The 2010 award is supported by a generous gift from Nion McEvoy. The award is part of the museum's ongoing commitment to contemporary art and artists through annual exhibitions, acquisitions and public programs.
About the Smithsonian American Art Museum

The Smithsonian American Art Museum celebrates the vision and creativity of Americans with approximately 42,000 artworks in all media spanning more than three centuries. Its National Historic Landmark building is located at Eighth and F streets N.W., above the Gallery Place/Chinatown Metrorail station. Museum hours are 11:30 a.m. to 7 p.m. daily, except Dec. 25. Admission is free. Follow the museum on Twitter, Facebook, Flickr, ArtBabble, iTunes and YouTube. Museum information (recorded): (202) 633-7970. Smithsonian Information: (202) 633-1000; (202) 633-5285 (TTY). Website: americanart.si.edu.
# # #
SI-529-2010