Oblivion Launches at Smithsonian IMAX Theaters April 19
April 15, 2013
News Release
Addthis Share Tools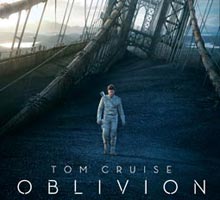 Universal's Oblivion will open at Airbus IMAX Theater at the Steven F. Udvar-Hazy Center in Chantilly, Va., April 19. Tom Cruise stars in the sci-fi film, which takes place on a future Earth that has evolved beyond recognition. Tickets are on sale at www.si.edu/imax.
The IMAX presentation of Oblivion has been specially formatted to feature a larger-aspect ratio than the conventional release for the entirety of the film. Exclusively in IMAX, this aspect ratio has been optimized to take advantage of the IMAX screen, allowing audiences to see more of the image and result in a full panorama of the action—further immersing them into the vast scale and scope of the film. Oblivion has been digitally remastered into the image and sound quality of An IMAX Experience with proprietary IMAX Digital Re-Mastering technology. The crystal-clear images, coupled with IMAX's customized theater geometry and powerful digital audio, create a unique environment that will make audiences feel as if they are in the movie.
In Oblivion, Jack Harper's (Cruise) confrontation with the past leads him on a journey of redemption and discovery as he battles to save mankind. Harper is one of the last few drone repairmen stationed on Earth. Part of a massive operation to extract vital resources after decades of war with a terrifying threat known as the Scavs, Jack's mission is nearly complete. Living in and patrolling the skies from thousands of feet above, his soaring existence is brought crashing down when he rescues a beautiful stranger from a downed spacecraft. Her arrival triggers a chain of events that forces him to question everything he knows and puts the fate of humanity in his hands.
The PG-13 rated film was shot in digital 4K resolution on location across the United States and Iceland. The film was directed Joseph Kosinksi (TRON: Legacy).
The Airbus IMAX Theater will host an early premiere at 8 p.m. Thursday, April 18. The first 100 attendees of this early screening will receive a limited-edition IMAX mini-poster commemorating the release of Oblivion. Tickets are now available. Individuals may reserve and purchase tickets up to two weeks in advance. The public may visit any Smithsonian Theaters box office, call (866) 868-7774 or visit www.si.edu/IMAX for information and to purchase tickets.
The Airbus IMAX Theater is located on the main floor of the Steven F. Udvar-Hazy Center at 14390 Air and Space Museum Parkway in Chantilly, Va. The theater's 86-by-63-foot screen is the largest in northern Virginia.
# # #
SI-136-2013